I belong to a Public Speaking Group Called Heart Centered Speakers and I have given many presentations, most of them on the power of forgiveness. I have told my story and about the death of my cousin and I know that USM is the platform from which I am going to dive head first into the next part of my life which will involve, among other things, speaking with and bringing healing light to people in or who are coming out of abusive lives.
Originally I had not intended to apply for the program this year. I was letting all the little chatter dictate the story. I received a call from the school and they asked why they hadn't heard from me. I told them that it was too late and they gave me a very small window to complete the process, which I did.
Before I left to turn in my application for this school, I sat with this deck that I have called the Inner Child Deck. It's a fairy tale tarot. I sat with the deck and prayed for a little bit and I said that I wanted to pull a card that represented my intentions for going to this school. My intentions were to find my healing and to come to the place that would bring me into the next part of my life, the path that has been galvanized by my cousin's death which was due to complications from an injury she received from an assault by her boyfriend.
Before I reveal the card I pulled, I must tell about the very first card I pulled from any deck ever: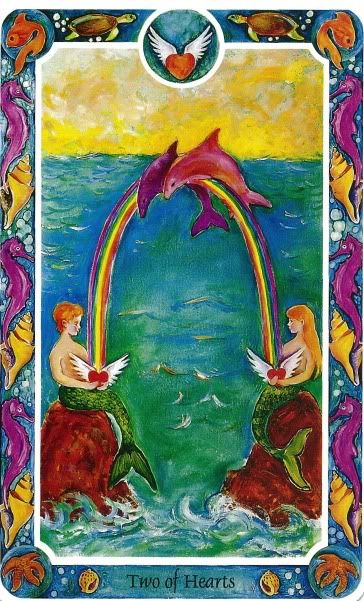 This card is of a merman and a mermaid, holding sacred hearts. They are connected by a rainbow and 2 dolphins are leaping over it in unison and joy. This card represents balance and marriage in all its forms, including marriage to a higher awakening. In the book that comes with this deck, for this card it states at the end:
"Remember that your own heart can be a rainbow bridge of living color and light, linking you to the source of the Divine Child within and helping you heal old wounds in the heart of a loved one". [/quote]
I pulled that card in January of this year. The
FIRST
person I thought of was my cousin, but she was already passed and I didn't understand how I could possibly heal wounds in her heart since she wasn't here anymore.
Well the very next time I went to my speaking group we pulled 2 cards each from a basket of over 150 cards. I pulled mine, went up to the podium and gasped
Oh My God you guys! Before I show these cards, I have to tell you about the last card I pulled!!!
I described the 2 of Hearts and then revealed my cards. The first one was a Mermaid, and the second one a whale! Now the mermaid is being confirmed and I feel like my cousin is trying to speak to me.
The very next time I pulled a card, I saw in my inner vision that the card was touching my pinky. I reached in, fiddled around to determine which card it was and then I pulled it. When I turned it over, I was overwhelmed. On it was a little merbaby. It was cradled in a giant clam shell and it was on its side sleeping. The caption on the top of the card said "Rest". This merbaby was a little boy. When my cousin died, she was 6 months pregnant with a baby boy.....
So now I am pulling this card before I go to turn in my application for USM and when I turned it over I started to cry. Here is the card: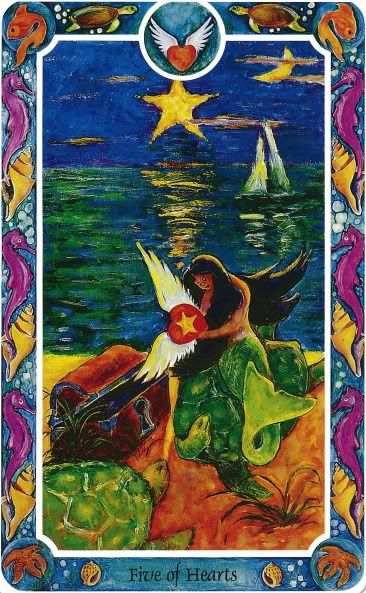 Again, the mermaid. And look, she is pulling out a winged heart from a
TREASURE CHEST!
I had absolutely
no idea
we would be doing that treasure chest meditation at school. I didn't even know meditation would be incorporated into our education. Of the 74 cards in the deck, only
2 of them
have a treasure chest. Only
this one
is open.... There are so many other things that speak to me about this card but after we came out of the weekend and the epiphanies I had over that treasure chest experience, I was just stunned that God is so good to confirm things this way.
At first I resisted looking in the book to read the meaning. I wanted the card to mean what it means to me. But, of course, curiosity got the best of me and I read it. When I did, I couldn't believe what my eyes were seeing:
"Often during our darkest hours, there is a need for reflection and rest, represented in this card by the sea turtles, the calm ocean and the crescent Moon. Then, suddenly, something magical can happen. the mermaid of the Four of Hearts who experiences sorrow and hopeless feelings opens a treasure chest in the Five of Hearts and is offered a special Winged Heart.....In this card the mermaid is experiencing a change of heart: She is healing the wounds of the past"
O. M. G! That first Card (The Two of Hearts) is the intention of the healing. This card is the
manifestation
of that intention. The Two of Hearts intends to heal, The Five of Hearts
is
the act of healing. One of the ways that I approached my cousin's death was not to allow it to throw me from my path. Instead I have embraced her and brought her with me. The way that I know I am to make sense of her death is by sharing my past, her death and how I have been brought to healing. In this way, her death is not in vain. In this way she has given me so many incredibly beautiful gifts.
In the book explaining this Five of Hearts, the Four of Hearts is referenced. Of course, I was too curious not to see this card. When I looked at it, I was again, incredibly moved because of what it made me feel about my cousin's death. In the book for the Four of Hearts it states:
"Sunken treasures, lost hopes, broken hearts, and tearful goodbyes are all aspects of the emotional journey one must encounter in life. Though these times are painful, the ever transforming tides of hope exist within them. A broken heart is an open heart. When we are willing to allow deep emotions to flow, there is invariably a gift of love at the other side. Sorrow brings the tidings of joy. This is the bittersweet aspect of Love.

The gentle mermaid in this card has lost her hope. The boat she was guiding during a storm has sunk, and her Winged Heart locket is broken. In time, she will look up and see her three friends, riding on dolphins, coming to her rescue. What seems lost will be regained as she reconstructs and discovers a new foundation of faith and hope in herself and in life..... "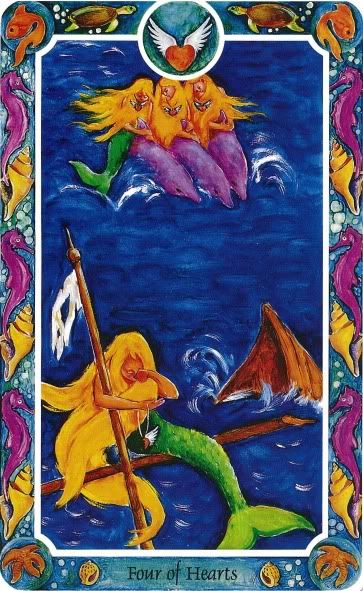 This is just so
BEAUTIFUL
to me. On Sunday at school (12/06/09), I discussed my cousin's death in depth for the first time. I have mentioned it in other trios but I never specifically focused on it by itself in any of our exercises. One of the things that has plagued me since she died was that I never had the chance to let her know that I lived the life she lived and that I came out of it.
At her wake, I placed the article I wrote about my abusive relationship (which changed my life and is what brought me on my beautiful path) in the casket as a gesture towards her eternal peace and healing. I was about to tell my partners how never being able to let her know we had this experience in common really has plagued me and then I remembered something.
In my late 20s I reconnected with my aunt and cousins after not having seen them for a very long time. My aunt asked if I was dating anybody and I told her no and she asked about my ex, who I had brought to Thanksgiving one year. I told them as a group how I was abused and how I left. So she
did
know. I didn't have the whole sit down one-on-one talk that I wish I had, however this brings such a new hope to me that in her experiences where she was being abused, that she thought of me. In this way, I was with her. I haven't remembered that memory for the last 3 3/4 years since she died. I feel like she brought that memory to me to let me know she is healing and that she is with me.
During lunch yesterday, I showed this card to a lunch mate and she pointed out that it looks like the mermaid is cradling a baby in her hair!!!!!
The way she is holding it, looks like she is cradling and that she is protecting it and talking gently to it. My cousin, as I mentioned before, was pregnant with a baby boy when she died. I hadn't noticed this before!!
What I love about the 3 mermaids riding in to help is that, especially now, it represents the whole intention of what our trios are all about. During those exercises we are one with one another. Through that oneness, we carry each other in our hearts as we go through our lives. When we are in the position to use everything we've learned, which is primarily through the experience of the trios, we aren't doing it alone. We are doing it with everyone we've worked with. One person becomes many through the love that is shared at our school.
The gratitude I feel in my heart to be at USM, is almost inexpressable. In the first night, we were asked what we expected to achieve after the first year of class. I spoke and I said that I wanted to Reclaim my Unstoppable Joy. I didn't even have to wait one day. That first night filled me with such a happiness I haven't experienced in the longest time. Now as we come out of this third month, the JOY I feel when I am in class is beyond what I imagined I could possibly find a year later. I am so thankful to God and to my class and to the wonderful staff and to my beautiful teachers, for being a part of my life. I am so blessed, beyond words.....
.
[Edited 10/8/10 12:13pm]