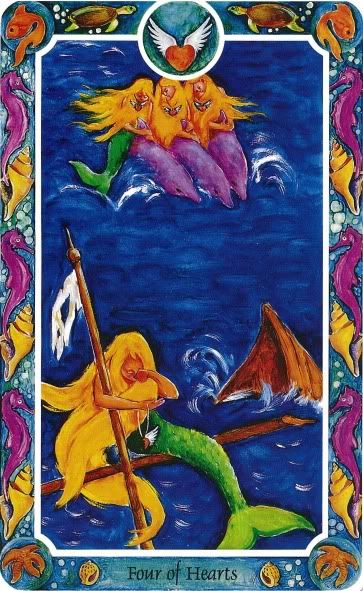 I must come back to this card....
It truly does look like she is cradling a baby in her hair and talking softly to it. Comforting but not comforted. There is something else so significant about this card but first:
My cousin Lisa was 6 months pregnant when she was assaulted by her boyfriend. This assault tore the placenta and caused her to bleed. The doctors got the bleeding under control and my cousin left to come home after 2 days, even though the doctors told her to stay for 4.
She was home one day and the day after she met up with some old friends she used to do drugs with and she got high on cocaine. This induced bleeding in her womb and she hemorrhaged and had a heart attack. Her friends left her all alone in an alley.
The doctors resuscitated her and kept her alive for four days on machines. The doctors told my family that there was no way they could try and save her life while being pregnant and she couldn't go through the surgery of a C section or delivery because it was too risky to her life. So my family agreed to terminate the pregnancy. This is how baby Anthony came to die.
It was no use though, because after Anthony was removed from her body, her organs started failing and she went brain dead. My family made the painful decision to take her off life support. Two lives lost, so tragically.
The thing that is so significant for me in this card, which is something I just noticed the last few days, is the sinking boat. It looks like a vagina during the birth process. How telling that this card that signifies her has a hidden child and a broken womb.
Last night I was on the train and I was reading over this article and I was looking at this card and something
JUMPED OUT
at me.
As I said earlier, I pulled this card before dropping off my application at my school where I am in the Masters Program for Spiritual Psychology: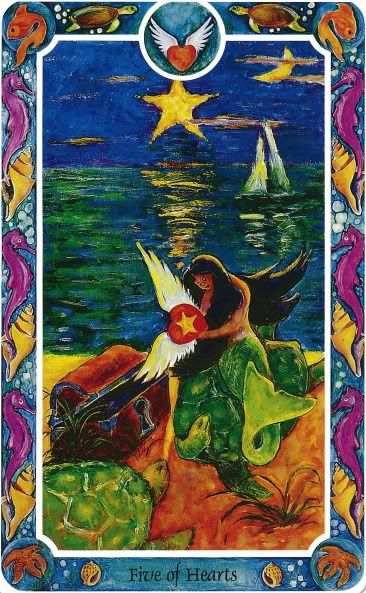 Then I had the experience of the Treasure Chest, where I found the gift that My Aunt had given me as a child. In the 8 months prior to going to school, I had pulled the card with the merman and mermaid with the rainbow connected hearts and dolphins. Immediately I thought of my cousin when it said that my heart can be a rainbow bridge connecting me to the inner child inside and would help heal old wounds in a loved one's heart.
The very next cards I pulled, together, were the mermaid and a whale. So now the mermaid is being confirmed, so are my feelings that it is connected to my cousin. The very next card I pulled was the merbaby, which was a little boy. My cousin was pregnant with a little boy. And now, this card with the Mermaid pulling her heart out of a treasure chest. She is
healing the wounds of the past
.
My intentions of going to this school were both for my personal healing and to bring into fruition the way that I will honor my cousin's death. Being in this school is helping me heal my own wounds. I am learning so much about who I really am and who I'm meant to be. This involves very clearly, my future which will be the healing that I will help others to find, the way I am being helped to find mine.
By using the healing light I have found in the way that I have explored and approached Lisa's death, I am sharing that light with others. This is the way I honor her death, this is the way I take away that awful darkness and the way such an awful tragedy becomes a healing act.
So last night I was looking at the Five of Hearts and noticed something about the treasure Chest. Look at the lid. Particularly the side of it. It is in the shape of a Bell. My aunt's name is Isabel but we always called her Aunt Bell growing up. In my meditation at school I found the gift in the treasure chest that my Aunt Bell Gave me, the very gift that represents my voice: The Chaka Khan Mouth.
Finding my voice and using it in my calling is the way in which I heal the wound that is the death of Lisa, and the way that will heal the wounds of others who have lived through destruction and loss. The Mermaid, which represents my cousin is pulling out a winged heart which is helping her heal the wounds of the past. Everything is so beautifully connected.
This morning my Aunt Bell passed away. The levels of what this gift means to me, the gift of my voice represented by the Mouth of my favorite singer, and how it all came together so divinely is
BLOWING. MY. MIND.
I am so incredibly sad that we weren't able to finish the conversation I had been wanting to have but before going to school, I did have an amazing conversation with her where I told her about my past and how I came out of it and how I healed through forgiveness. I told her about the way that I have dealt with her daughter's death and the way that I would be bringing honor to something so otherwise senseless.
She opened up to me about some of her darkest fears and some of her biggest regrets. In this conversation she really took to forgiveness and expressed that she was not holding grudges against people who did her wrong. She didn't have the life she wanted or needed in these last days but she knew she had my love. I can't tell you how much I loved her. So so much.
This is a picture of us at my grandmother's 80th birthday: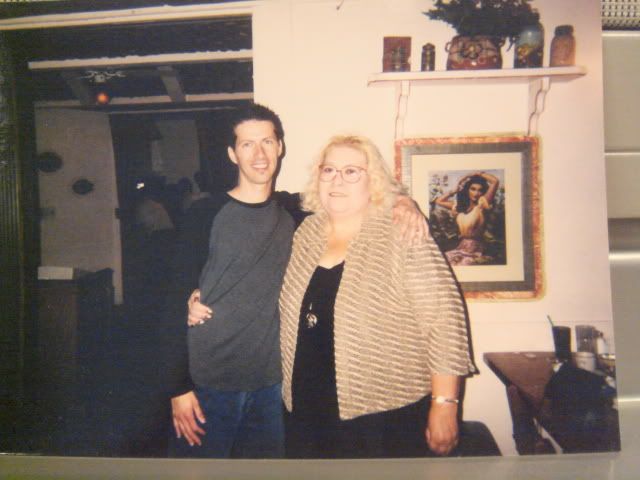 I love you Aunt Bell. Thank you for accepting me as I am and for the love you always showed me. I will always remember your laughter and how much it made me want to laugh, just from the pure joyful sound that it was. I will always remember those childhood days in your house during the holidays where we ate the best food which was cooked with so much love. I will always remember all the love you gave me and now you are together with Lisa and Anthony where your true healing can begin.
THANK YOU FOR MY GIFT!
Oh My God, how priceless. I am eternally grateful that I had you in my life and I will remember you always.....
Can't wait to see you in the Garden....
.
[Edited 2/5/10 11:48am]
[Edited 12/5/10 15:03pm][Edited 12/5/10 15:15pm]