PRINCE TALKS
BY NEAL KARLEN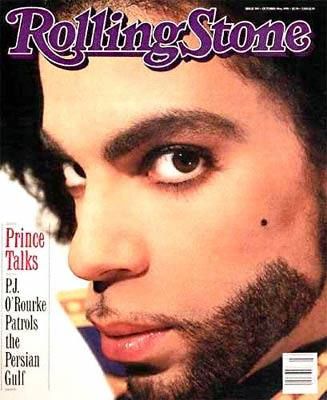 THE PHONE RINGS at 4:48 in the morning.
"Hi, it's Prince," says the wide-awake voice calling from a room several yards down the hallway of this London hotel. "Did I wake you up?"
Though it's assumed that Prince does in fact sleep, no one on his summer European Nude Tour can pinpoint precisely when. Prince seems to relish the aura of night stalker; his vampire hours have been part of his mad-genius myth ever since he was waging junior-high-school battles on Minneapolis's mostly black North Side.
"Anyone who was around back then knew what was happening," Prince had said two days earlier, reminiscing, "I was working. When they were sleeping, I was jamming. When they woke up, I had another groove. I'm as insane that way now as I was back then."
For proof, he'd produced a crinkled dime-store notebook that he carries with him like Linus's blanket. Empty when his tour started in May, the book is nearly full, with twenty-one new songs scripted in perfect grammar-school penmanship. He has also been laboring over his movie musical Graffiti Bridge, which was supposed to be out this past summer and is now set for release in November. Overseeing the dubbing and editing of the film by way of dressing-room VCRs and hotel telephones, Prince said, has given him an idea. "One of these day," he said, "I'm going to work on just one project, and take my time."
Despite his all-hours intensity, the man still has his manners. He wouldn't have called this late, Prince says apologetically, if he didn't have some interesting news. He'd already provided some news earlier in the week, detailing, among other things, a late-night crisis of conscience a few years back that led him not only to shelve the infamous Black Album but also to try and change the way he wrote his songs -- and led his life.
The crisis didn't involve a leap or a loss of faith, Prince has said, but simply the realization that it was time to stop acting like such and angry soul. "I was an expert at cutting off people in my life and disappearing without a glance back, never to return," he'd said. "Half the things people were writing about me were true."
But what's never been true, he felt, was what people have written about his music. Until, that is, just this minute. It seems that a fresh batch of reviews of the soundtrack of Graffiti Bridge were faxed from Minneapolis to the hotel while Prince was performing one of his fifteen sold-out concerts in England.
What Prince has read in the New York Times has astounded him. "They're starting to get it," he says from his phone in the Wellington Suite, which he has turned into a homey workplace with the addition of some bolts of sheer rainbow-colored cloth, film equipment, a stereo and tacked-up museum-shop posters of Billie Holiday and Judy Garland. "I don't believe it," he says again, "but they're getting it!"
They, in this case, are members of the rock intelligentsia who have alternately canonized and defrocked Prince. In the past, he has derided his professional interpreters as "mamma jammas" and "skinny sidewinders." Two days ago, it became obvious that his epithets, but now his feelings, had tempered concerning those who would judge him.
"There's nothing a critic can tell me that I can learn from," Prince had said earlier. "If they were musicians, maybe. But I hate reading about what some guy sitting at a desk thinks about me. You know, 'he's back, and he's black,' or 'He's back, and he's bad.' Whew! Now, on Graffiti Bridge, they're saying I'm back and more traditional. Well, 'Thieves in the Temple' and 'Tick, Tick, Bang' don't sound like nothing I've ever done before."
But hadn't he been cheered by the album's almost uniformly rave notices? "That's not what it's about," Prince had said. "No one's mentioning the lyrics. Maybe I should have put in a lyric sheet."
Now, in predawn London, he's called to say he was wrong. "They're starting to get it," he says one last time, unbothered by the fact that the Times article trashes his lyrics. That's okay, he says, because "they're paying attention." Sounding more amazed than pleased, Prince hangs up the phone and goes back to his dime-store notebook.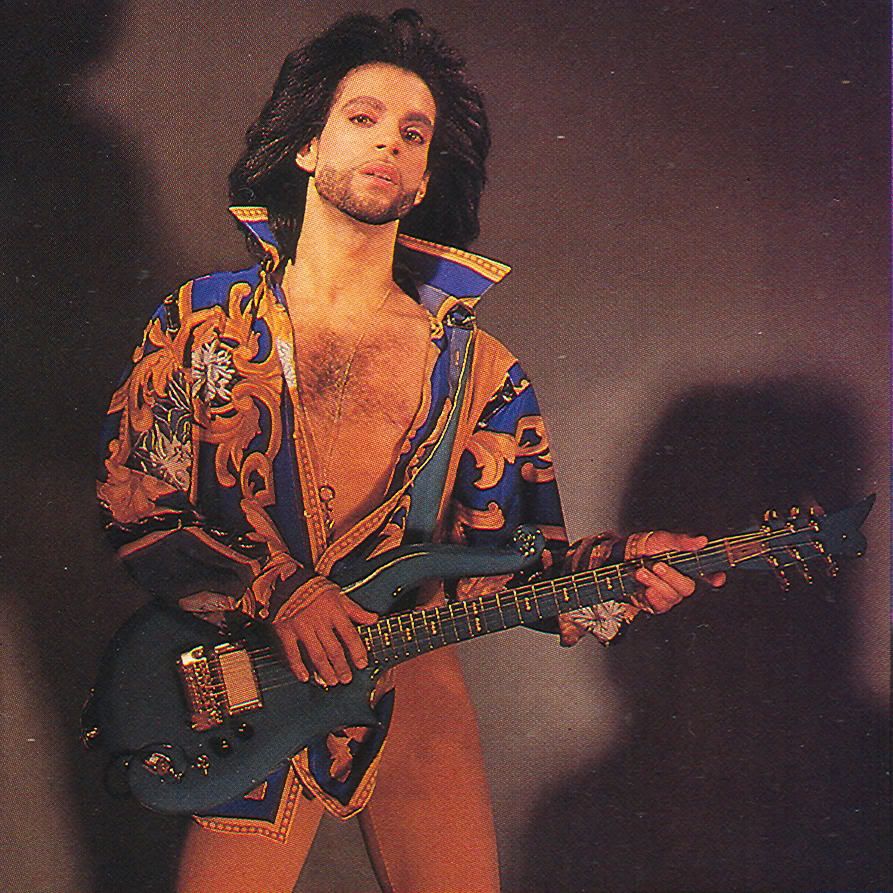 FIVE YEARS HAVE PASSED since Prince opened the passenger door to his 1966 Thunderbird and took me on a three-day schlep around the hometown he has never left. When I finally got out, I felt like Melvin Dummar, the doofus milkman who claimed to have driven through the Nevada desert with a surprisingly human Howard Hughes. No one had believed Melvin, and no one, I thought, would believe Prince was a being orbiting so close to planet Earth.
Not that Prince hadn't shown some signs of unease with his still-new superstardom. Alone, he's been animated, funny and self-aware. But out in public, even walking into places as hospitable as Minneapolis's First Avenue club, he would palpably stiffen at the first sign of a gawk, his face set in granite, his voice reduced to a mumble.
Now Prince seems more open and comfortable, less likely to slip into stridency. "You have a few choices when you're in that position," he says, remembering the first year after Purple Rain. "You can get all jacked up on yourself and curse everybody, or you can say this is the way life is and try to enjoy it. I'm still learning that lesson. I think I'll always be learning that lesson. I think I'm a much nicer person now."
This isn't to say that Prince has turned into Dale Carnegie -- he still has the hauteur of a star. But something has changed; his philosophy no longer seems to hinge on things like the size of one's boot heels. "Cool means being able to hang with yourself," he says. "All you have to ask yourself is 'Is there anybody I'm afraid of? Is there anybody who if I walked into a room and saw, I'd get nervous?' If not, then you're cool."
Many things, however, have stayed the same. Prince is still very funny. ("You can always renegotiate a record contract. You just go in and say, 'You know, I think my next project will be a country & western album.'")
He can still play the cocky rocker. "I don't go to awards shows anymore," he says. "I'm not saying I'm better than anybody else. But you'll be sitting there at the Grammys, and U2 will beat you. And you say to yourself, 'Wait a minute. I can play that kind of music, too. I played La Crosse [Wisconsin] growing up, I know how to do that, you dig? But you will not do 'Housequake.'"
His grasp of history and current events remains quirky. Prince can cite chapter and verse from biographies of Little Richard and Jerry Lee Lewis, but he seems genuinely unaware that his own life story was turned into a book by an English rock critic. He knows, blow by blow, the events in the Mideast, relating the crisis to everything from the predictions of Nostradamus to the drug-interdiction policy of George Bush. But he hasn't yet heard of 2 Live Crew.
There is still some residue of emotional pain. "What if everybody around me split?" he asks. "Then I'd be left with only me, and I'd have to fend for me. That's why I have to protect me."
Prince's detractors might diagnose these words as the classic pathology of a control freak. His high-minded supporters might say those are normal protective feelings for somebody who was kicked onto the streets by his beloved father at age fourteen. Prince himself, however, echoes Popeye more than Freud as he analyzes just who he is. "I am what I am," he says. "I feel if I can please myself musically, then I can please others, too."
Finally, there is one more philosophy unchanged with the years. "I play music," Prince has said. "I make records. I make movies. I don't do interviews."
So what are we doing? "We're just talking," he says. Hence, his decision not to be taped or allow notes to be taken or even a pad of questions to be brought out. That would inhibit him, he says; that would mean doing the thing that he just doesn't do.
No, Prince vows, he isn't trying to be a purposeful pain. What he says he simply wants to avoid is "that big Q followed by that big A, followed by line after line of me either defending myself or cleaning up stories that people have told about me."
No matter what he might say in a traditional interview, Prince continues, he'd only end up looking ridiculous. "Some magazine a little while ago promised me their cover if I answered five written questions," he says. "The first one was 'What are your exact beliefs about God?' Now how can I answer that without sounding like a fool?"
True. But isn't he afraid of being misquoted? No, he says softly, staring at the holstered tape recorder on the table before him. When Prince says no, with pursed lips and a slight shake of the head, it carries a certain finality.
Still, in the coming days he addresses just about everything short of Kim Basinger ("I really don't know her that well") or anybody else he's dating ("I never publicize that. My friends around town are surprised when I introduce them to someone I'm seeing").
"And you really would feel better having your words taken down the second you say them?"
"No."
Okay.