Alan Leeds, some musician guy, and German promoter Roland
Fackel arriving in Belgium for a Parade tour show - 1986: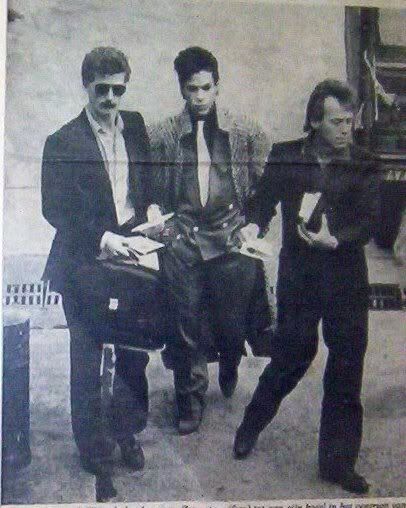 QUESTION 11:
Of all the things you were a part of, what makes you most proud? What is your biggest work-related achievement?
I adored the liner notes you wrote for both Star Time and The Hits/The B-sides. I must admit I am rather envious of all the inside information you have about Prince's music. For most of us, lines notes like yours make all the difference. I loved reading so many great inside stories on both JB and Prince, that I want to thank you for those jobs. I certainly hope that if Prince ever opens that vault, you will be involved in writing the liner notes.
Again, many thanks!
(Orger:
HamsterHuey
)
Wow, thanks again. It's really gratifying to know people actually read those liner notes and credits. We try to put as much care into them as possible, under the assumption that musicologists, and fans alike, will turn to them as reference in years to come. Which segues into your question of "what makes me the most proud". In 1992 I shared a Grammy Award with James Brown, Universal producer Harry Weinger and writers Nelson George and Cliff White for our essays in the James Brown STARTIME box set. While I'm proud of the Grammy, I'm more proud of the inscription James Brown wrote in the box set booklet I passed around to him and his musicians like a high school yearbook. Brown wrote, "Thanks for helping with our Grammy" (his underlining). If my office ever catches fire, that booklet is what I'll grab first.
QUESTION 12:
If you could go back and change something about your time with Prince, what would it be?
(Orger:
babynoz
)
I'm not much for hindsight, because there are usually reasons why things turn out the way they do. For example, I would have loved if Paisley Park Records had turned into a 'real' record label - in the sense of seeking talent with legitimate and competitive market potential - but it was never meant to be.

Warner Brothers' original interest in the joint venture was based on Prince's success as a producer of acts such as The Time, Vanity 6 and The Family. Unfortunately, by the time he had authority over his own label, Prince's ambitions as a producer had changed. Some of the early signings were obscure acts that Prince's managers handled. Unwisely, Prince failed to disguise his lack of interest in most of these projects from Warner Brothers.

Signing icons like George Clinton and Mavis Staples were admirable gestures. Prince made some very nice records with Mavis, but trying to market her in a contemporary fashion - IE "Melody Cool" - didn't make sense to me. As for my friend George, his affairs were then in disarray and we inherited an unfinished album that was already dated. Warners and George had both hoped Prince would devote more time towards working with him but it never really happened. Soon the label became known as a playground for Prince girlfriends as albums by Jill Jones (whom I adore - a more talented lady than the album suggests), Taja Seville, Ingrid Chavez and finally an unknown Carmen Electra, came and went.

The fact is, unlike those who are primarily producers by trade, Prince's interest in working with other artists usually hinges on their ability to fit into an alter ego role or some other aspect of his own orbit. It worked like a charm with Vanity and Morris Day, but if an artist was married to his or her own ideas and concepts, Prince would often lose interest. And when he lost interest, that usually transformed into a lack of enthusiasm in the Warner Brothers promotion and marketing departments. I ended up spending several very frustrating years trying to get Warners and the industry to take Paisley Park Records seriously when Paisley Park Records simply didn't want to be taken seriously. Without competitive product and Prince's consistent enthusiasm, it was a no-win.

I hesitated citing this example because I don't want it to appear as sour grapes - I learned a lot and appreciated the experience of running a label. But I think the real tragedy is Prince's lost opportunity to build a legitimate, respected forum for his extra-curricular output.
QUESTION 13:
Is there a concrete plan for Prince's music once he passes away?
(Orger:
Graycap23
)
I have no idea if Prince has a will or any other legal contingency for what happens to his archive in the case of his death. I hope he does.

Though no lawyer, I assume his tape archive would be viewed as part of his general estate. On the other hand, anything that was recorded during the years he was under contract to Warner Brothers couldn't technically be released without Warners approval or involvement.

I recall Prince expressing his distaste for what happened to the Jimi Hendrix archive and even some reservations about the James Brown reissues I've been involved with. He once sarcastically asked, "Does James know you have all these out-takes and unissued songs?" I assured him that JB was cool with how we were treating his archive (and even cooler with the bucks he was raking in) but I don't think Prince was convinced.

Despite legitimate arguments to the contrary, when it comes to catalogue - compilations and reissues - I've found that many artists lack the overview to understand what the audience for these projects really wants. Some artists are simply too close to their songs - which frequently end up meaning something entirely different to their audience. And their memories are often less accurate than a researcher's homework.
QUESTION 14:
Did the members of the Lovesexy band and touring entourage really understand the whole concept behind the album , was it explained to you all by Prince or were you all just going along with the ride ?
(Orger:
moonshine
)
I don't think Prince ever directly explained Lovesexy. But casual conversations with some of us revealed a lot. It had been a dark time for him. There was the lingering frustration over SIGN O' THE TIMES and then the BLACK ALBUM fiasco. He was juggling relationships with several ladies - each of whom seemed to bring out a different side of him. There was the explosion of hip-hop, an art form he didn't initially relate to and saw as a threat. And there was the sting of some critics who suggested his music was no longer "black" enough.

As usual, Prince's answer to an unpleasant reality was to construct a reality of his own. Thus: LOVESEXY. No matter how complicated or controversial he seemed to make it, the story was basically just old fashioned good over evil. Infusing a spiritual context to sexuality turned off some listeners and confused many more. But I think that was needlessly complicated too. I think all he was saying was that anything as good as sex can't be evil. If it had been the 1970's, it would have been an easy sell. But in the midst of the 1980's A.I.D.S. explosion, the timing was challenging to say the least.
QUESTION 15:
Who in the world chose the singles from SOTT? Do you think If I Was Your Girlfriend was the right choice as second single from SOTT? Do you know if tracks like Housequake, Hot Thing or Adore were EVER considered for release as singles on their own? ...Basically - what happened?!?
(Orger:
Scrambledeggsaresoboring
)
Prince ultimately chose the singles. He'd solicit opinions from some us but at the end of the day, he called the shots. "SIGN O' THE TIMES" was a no brainer for the first single but the release of "Girlfriend" stopped radio in its' tracks - homophobes misinterpreted the lyrics and it's charming eccentricity simply didn't fit a format. Meanwhile black radio was clamoring for "Housequake" which was already surfacing as the club/party jam of the year. We all felt it should have been the obvious choice for the second single. So did Prince. TOO obvious.

I can't say if Prince was knowingly pushing the envelope or naively believed that "Girlfriend" could be a radio hit, but he (and the album project) were devastated by its failure. That we were touring Europe instead of helping the album in America didn't help (also his choice).

Of course "Housequake" was the third single but as the "B" side to the hugely successful "U Got The Look". Despite the 3rd singles success, the album's momentum had been sidetracked by the failure of "Girlfriend" and lack of a U.S. tour. For the record, "Hot Thing" was the "B" side on the 4th single, "I Could Never Take The Place Of Your Man". For whatever reason, Prince was usually shy about releasing a ballad as the plug side of a single. "Adore" could have been a huge hit.

The subject of selecting singles goes back to the issue of an artist viewing his or her music differently than the public does. While Prince always hated anything too obvious, selecting singles is not the time to be clever. If you accept singles as a marketing tool for an album, then obvious is what the party calls for! Some wheels don't need reinventing.
QUESTION 16:
Other than Prince, who have been your favorite people to work with?
(Orger:
DirkFunk
)
I think each was my favorite at the time I worked for them. It may sound evasive but they're all favorites in their own ways. The James Brown years were exciting, learning experiences. His professionalism and respect of show business tradition gave me a foundation that many of my peers today weren't lucky enough to receive. The Bootsy Collins/George Clinton period taught me there is always another way to do things and to have fun doing it. The Prince years, and particularly the PURPLE RAIN phenomenon, provided a glimpse of super-stardom in the modern, media-driven world that few people ever get to experience. And the more recent years with Maxwell and D'Angelo provided me the opportunity to apply what I've learned and to pass it on to the youngsters I find myself working with. Both artists were new to the touring end of the industry and I'm very proud of what we accomplished in each case.
QUESTION 17:
What do you feel when some people don´t consider Prince as great as some of the famous (and "serious") american songwriters like Gershwin, Duke Ellington, Cole Porter, etc, but see him as a pop star only? What would you say to them?
(Orger:
GustavoRibas
)
I'd say they're tone deaf! LOL

On a serious note, I'm not sure we need to distinguish between "pop" art and "serious" art when it comes to non-classical music. Anything "pop" needs to be judged within its' own context. For example, Cole Porter, Duke Ellington and the Gershwins were all considered "pop" in their eras.

In a sense, Prince has been his own worst enemy when it comes to being judged on musical merit, because of his career-long obsession with image and celebrity. When one thinks of the skimpy clothing of "Dirty Mind", the mid-1980's fixation on all things purple, the ever-changing wardrobe and hair styles or the very public evolution of his spirituality, it can become a distraction from the music. Of course, those factors often illustrated or accented aspects of his music and represented his "show biz" instincts as a performer. But it can be argued that he sometimes went overboard in placing more attention on the wrapping than the contents of the package.

I remember a conversation we had back in the late 1980's during which he expressed his frustration at not being taken more seriously as a musician and composer. I suggested that since he always embraced extremes, why not throw away all the props and do a tour in a turtle neck and a pair of jeans where he and his band simply sang and played.

Incredulous at my hubris, he replied, "What? And look like you instead of a star? Nobody will pay to see someone who looks like an everyday guy!"
To put it simply, the idea scared the velvet pants off of him.

Ironically, that's why I found the ONE NITE ALONE tour so refreshing and it's a shame that the "live" box set and Las Vegas DVD don't quite capture the unique charm of that tour. Given the critical acclaim of the tour's early months, I found the set list and sequencing on the box set very curious. The pacing and song selection just didn't make me feel the way the shows had. Since the box set and DVD will be the lasting impression of that tour, maybe it means he's still afraid.
QUESTION 18:
Dear Alan,
Can u remember the most poignant story from ur time 2gether with Prince, which made u think something along the lines of, 'he is human, after all', and can u please share this little-known emotional story with us?
love,
Anji
(Orger:
Anji
)
I can think of several. Believe it or not, like most people whose outward extremes contradict their opposite inner extremes, Prince is a genuinely sensitive man. Playing amateur shrink for a moment, I suppose his rejections as a youngster inspired a stony surface as a protective device - actually, not a bad thing to have in the music business.

One story that comes to mind took place in a limo en route to the Hollywood premiere of PURPLE RAIN. Big Chick was riding up front with the driver and I was in the back with Prince who was holding a single flower he had impulsively plucked from a garden in front of our hotel. The ride was tensely quiet. Remember this was a movie nobody thought would ever get made. "Who is this singer Prince who thinks he's all that to make a movie", said most in the industry and much of the media. We all knew this was either going to turn Prince into a major star or be one of the most embarrassing flops of all time.

We had carefully plotted a caravan of limos so as to orchestrate the arrivals of the various figures in the movie. One by one, limos deposited Billy Sparks, Morris Day and Jerome, The Time, Apollonia 6, Wendy & Lisa, Bobby Z, Dr. Fink and Brownmark. And they each worked their way up the red carpet, stopping for waves to fans, quick TV interviews and hundreds of photographers. The idea was, of course, that Prince would be the last to arrive and be met at curbside by a group of our security guys with whom we were in touch via walkie talkies (remember, this was before everyone had cell phones).

We had pre-arranged a spot a block behind the theatre where we would temporarily park and wait for the cue to pull around and make the "grand entrance". At that point I would also jump out of the car and run ahead to make certain everything at curbside was just the way we wanted and then give the driver the final "go". When we reached the appointed spot and parked, Chick turned on the walkie-talkie as Prince anxiously asked him, "What's going on there? Can we go yet?"

Chick turned around toward us and reported, "the guys say there's a traffic jam 2 blocks long, more fans than the police can handle and more cameras than a photography store!"

At that point Prince suddenly lost it. Just for a flash, but like any mortal human being, he lost it. He suddenly gripped my hand in a desperate vice and his voice broke as he strained to whisper in a tone that sounded like a petrified ten year old, "Whhh..aa..tttt d-diid he saayy?"

I was stunned too, but instinct took over and I hung onto his hand firmly and said calmly, "He said we're gonna have a day to be proud of and it's gonna be fun. Now let me get to theatre and I'll meet you there."

It was touching and revealing - probably the only moment through the whole, tedious making of the movie that he showed any doubt or vulnerability. And just as quickly, he caught himself....probably frustrated that he had let his guard down....and said, "Yeah, hurry up over there. And don't let them mess this up!"
QUESTION 19:
Dear Mr Leeds, I'm a Prince fan from India.
Behind that public persona, I have a gut feeling that Prince is a really simple man with a simple lifestyle, how right am I? Does he really have an extravagant lifestyle of a rock star or is he a well-grounded person?
(Orger:
armybrat
)
I think he's somewhere in the middle - neither extravagant by celebrity standards nor grounded in an every day sense. He certainly has the sense of entitlement that most celebrities are susceptible to. When he wants or needs something, the word "no" is missing from his dictionary. But he's never been about "bling" for bling's sake - preferring to design his own clothes and privately acquire the things other wealthy celebrities publicly spend thousands of dollars on. His homes, both in suburban Minneapolis and in Beverly Hills, have generally been exclusive and in good taste (only one was painted purple) without being garish. He's been through the gamut of luxury cars from BMW's to a Rolls but you won't find him on MTV showing off a parking lot-size collection. Most of his indulgences, such as corporate jets, limos on 24 hour call and exclusive hotel suites have more to do with his privacy than opulence.

Like most anyone who would find themselves with his resources and access, Prince enjoys the many conveniences and privileges of wealth and celebrity. On the other hand, his personal taste isn't particularly sophisticated. He enjoys movies, playing certain sports and, more than anything else, playing music.
QUESTION 20:
Hi Alan. Thank you for doing this.
In your liner notes for The Hits you said
'...our wildest imaginations couldn't conjure up what a collection like this might contain in another 15 years.'
What are your opinions on the output of the past 15 years and do you believe that that statement rings true today for the next 15 years?
(Orger:
JimmyNothing
)
I guess I have to eat my words as I've found the last 15 years somewhat disappointing. It's not surprising that Prince no longer rules the charts in the trendy, youth-oriented world of pop music, but that didn't have to have any bearing on the quality of his output. Unfortunately, the reality of his aging didn't seem to sit well with him until recently. His insular lifestyle discouraged the kinds of life experiences that could have expanded his palette and some of his music during much of the 1990's suggested an inner turmoil.

Obviously, none of us can (or should) speak for him, but in my opinion, Prince's music in the 1990's suffered because, for the first time, he allowed outside trends to influence his work. While I doubt he would admit it, whatever the hip-hop explosion meant to him failed to believably translate to his music. He tried incorporating rap but the "keep it real" hip-hop community wasn't buying Tony M or a gun-shaped microphone from a guy Prince's age who had grown up in a relatively middle-class Midwestern environment. Then he went retro, as if he had stubbornly decided that if he couldn't regain street cred, he'd go the opposite direction and resurrect artists like Chaka Khan and Larry Graham. It made for some entertaining music but nothing that really stuck to the ribs.

Then there are his on-going differences with the music industry and how music is marketed to the public. He has good points in his arguments and tons of sympathy from other artists, young and not so young, but for a while it seemed like he spent more energy in promoting his views and marketing concepts than creating the music itself. When the music did seem to step up a notch, such as on the RAINBOW CHILDREN album, it was compromised by a few curiously disturbing lyrics and the hugely annoying segues.

Despite all of the above, the last three years have given reason for hope that the Prince legacy is anything but complete. Now that he's obviously grown secure with his age and established his spiritual beliefs for all who care to know, there are indications that his music may cleanse itself of the extra agendas. I have no doubt that he can still stumble on a brilliant new song in his sleep. His effortless command of the stage and awesomely rich catalogue will always lure ticket buyers into any venue he chooses to visit. We music fans will always be richer for his presence.
L-R: Gwen Leeds, Alan Leeds, Sheila E., Pete Escovedo, Juanita Escovedo,
Juan Escovedo, Miko Weaver, Tristan Leeds (kneeling)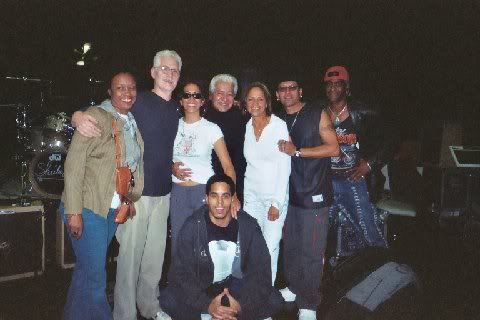 © Alan Leeds
To round off the edges somewhat, I grabbed the proverbial bull by the horns and posed a couple of further questions to Alan that have cropped up from time to time on message boards across the community - such as the sad demise of the much-missed 'Controversy' fan magazine, and what REALLY happened between Prince, Wendy & Lisa and 'that comment'... as well as asking him to inform us what his future plans are and what D'Angelo is currently up to, etc.
- BananaCologne
I can't knowingly comment on the 'Controversy' fan club situation. I'm a bit old school when it comes to fan clubs, believing that they ALL deserve respect and support to at least some degree. But in today's music business, fan clubs (to use the term broadly) have become a huge revenue source thanks to the internet.....downloads, merchandising etc. Big revenue breeds control, so there you have it.

For many years Prince's desire to control fan access had more to do with his privacy and the marketing of his "mystique" than anything financial. But now that's changed and his cutting edge efforts through his own website speak for themselves. I believe most fans are capable of understanding this, after all they're of the internet generation too. But Prince's legal gripes with 'Controversy' seemed extreme to me and certainly, from a public relations standpoint, the situation was badly bungled.

As to Wendy and Lisa, I know Prince has genuine respect and fondness for them both. That he invited Wendy to appear with him on the Tavis Smiley Show was probably a gesture aimed to those harboring the same feelings as yours. Having said that, their relationship is personal and deserves to stay that way. Wendy and Lisa certainly don't need me or anyone else to express their feelings, nor does Prince. Analyzing their relationships and suspicions about Prince's sexual politics are issues better left alone - until and unless he finds reason to publicly express himself on the subject(s). No matter what I, or any fan, might suspect personally, unless any of the three "go public", I choose to consider it a non-issue.
Wendy, Sheila as Morris, and Alan at The Family Jamm 2003: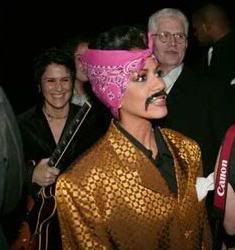 © Heaven Productions
MY WORLD:
D'Angelo is continuing to work on his next album - he's got enough amazing material for ten albums by now - LOL. Unfortunately, due to an on-going dispute with Virgin Records, there's still no deadline to deliver a finished record - much less a release date. I could do another number on the pitfalls and limitations of today's music industry and how they inhibit a pure artist such as D'Angelo, but I'll spare you the pain. Sooner or later, an album will find its way to the public and, God willing, D'Angelo will be motivated to find his way back to the stage. And then we can re-start our mission to share this young man's true stature. At his core, he probably IS the most gifted and exciting artist and performer since Prince. I live for the day when the rest of the world can discover what a few of us already know about the depths of his gift.

Beyond D'Angelo, there is RENEE NEUFVILLE who is an equally astounding talent of great versatility and depth. Her success as half of ZHANE and more recent recording and touring exposure with Roy Hargrove's RH Factor has only scratched the surface of the delightfully rich music she can bring to the world. To those who wrote in asking about new music, I hope 2006 is the year we can talk about Renee in the same breath.

I am also involved, as an Associate Producer, with a Paramount Pictures film project based on the life of James Brown. It's in the earliest of stages, the first draft of the script isn't even delivered yet. But it's an exciting project that I'm looking forward to as a challenge and a new adventure.
FINAL THOUGHTS:
In summation, I find it difficult to do this much thinking and writing about Prince without adding some final thoughts. Personally, I find it discouraging that Prince's proselytizing in recent years even hints at religious, racial or sexual prejudices that he never represented back in the day. When Prince burst on the scene in the early 1980's I saw him as an appealing liberator of sorts. He offered liberation from the wimpy disco era that came before him. He offered liberation from the racial and sexual constrictions that the Reagan years seemed to symbolize. Those of us who felt we understood his music only saw bold truth and honesty. Songs like "Bambi", "Dirty Mind", "Controversy", "1999", "Little Red Corvette", "Erotic City" and even "Darling Nikki" seemed so poetically realistic and timely that they couldn't seem any "dirtier" to me than they did to him. The biggest disappointment of Prince today is that he no longer feels the same way.

This has been huge fun for me. I haven't forgotten what it was like to be a fan before I set foot in this business. Listening to the music I loved took me places my feet couldn't. It made me feel ways I couldn't otherwise feel. And it made me forge thoughts I couldn't otherwise think. One of the many blessings of a gift such as Prince's is the ability to take fans outside themselves. He should be grateful there are so many of you along for the ride. I hope sharing some of my memories will inspire you to put on some music, close your eyes, open your mind and take one of those magical rides. It's never been about me - it's always been about the MUSIC!

Have a great holiday season and a wonderful 2006!
- Alan Leeds (Minneapolis, December 2005)
L-R: Bobby Byrd, Vicki Anderson-Byrd, Universal Records' Harry Weinger,
the late great Lyn Collins, Alan Leeds, Martha High & Marva Whitney: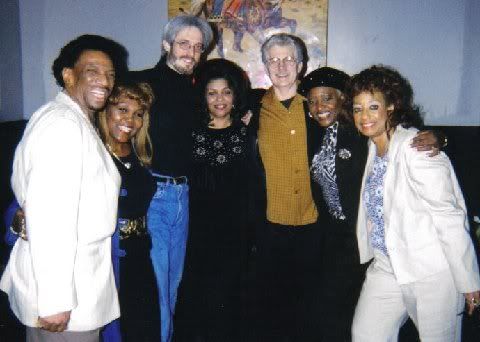 © Alan Leeds
© Fruity Parfume Inc. for prince.org