These are fun! Find a picture and caption what is going on in it...If you fins a pic that is funny or funnier with a caption...post it!
The captions are below the pic.
Coming to Saturday mornings this spring on FOX...Heavanly JW, A new childrens cartoon by Prince!
"No really...my hair was this big when I started doing this!"
"Do I make you horny baby?"
"Hey, in tha back...can yall hear my outfit back there? ... good!"
"Yo TC...you think this will still be in style in 15 years? ... cool then lets go!"
"Hey! Does it look like Im reading? Good cause I cant see a damn thing."
(singing) [Wooha]
"I am tripping sooooo hard right nowwww..."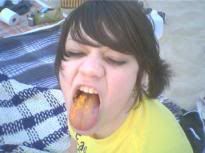 (singing) "Eye can see cleeeearly now, the chains are gooone"
" Uh, sorry yall, they sent me down with ten commandments...but i lost the other five."
".....and that was the First time eye got crabs."
(in his head)
"AAAAAHHHHH!!!!!"
"OK yall...who farted?!"
[Edited 2/10/05 23:22pm]