The Epiphone Acoustic that Hendrix played for three years - longer than any other guitar used in his career - is predicted to fetch between £80,000 and £120,000 when it is offered for sale through Bonhams on Thursday.
Bass player Noel Redding once said he remembered Hendrix buying the guitar "second hand, for about $25 (£20), in New York after our first tour of the States".
Hendrix gave the Epiphone to Blue Mink guitarist Alan Parker in 1970, the same year he died aged just 27.
The guitar was later used on recordings by acts including Dusty Springfield, Walker Brothers, Paul McCartney and David Bowie.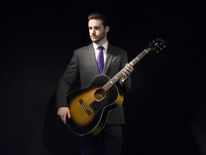 Image Caption:An auction house worker with Hendrix's guitar
The other guitar for sale, the Cloud guitar belonging to Prince, is expected to fetch between £25,000 and £30,000 and is being sold by someone who won the guitar in an MTV competition.
The singer used the Cloud model throughout his career, and this particular guitar was taken on the Act I and II, Prince and the New Power Generation Tours of 1993.
Prince died of an accidental overdose in April, aged 57.
Other lots for sale at the celebrity memorabilia sale include an Imperial Bosendorfer concert grand piano played by Queen, Coldplay and Robbie Williams and valued at up to £30,000, and a silk jacket worn on stage by Rolling Stones star Keith Richards.
The single-breasted jacket, estimated to fetch up to £15,000, can be seen in a number of photos of the band on and backstage at the London Palladium in 1967.