Much is said about the mighty Linn Drum with regards to Prince's "classic" sound, but I think it is high time we give the Oberheim OB series of synths some love. In fact, you could easily argue that the OBs were at least as important to the early Prince sound as the Linn Drum (and in fact their use in his music predated the Linn!). The OB is responsible for nearly all of those punchy "horn" stabs, pulsing synth lines and glorious detuned oscillator sounds on "1999", and they made up a big portion of the analog synths used on "Dirty Mind", "Controversy" and "Purple Rain"... so take a little time out and learn a bit more about one o' the many synths o' Prince.
First off, here is some great high level information from the wonderful Vintage Synth Explorer site about the last of the OB synths:
http://www.vintagesynth.c...im/ob8.php
The OB-8 was the last of the classic OB series that included the OB-1, OB-Xa and OB-X. The OB-8 is a very warm and rich sounding eight voice polyphonic synthesizer with that classic Oberheim sound. Because it was released just before MIDI debuted, the OB-8 had no MIDI implementation originally, but some models were retrofitted with 9-channel MIDI implementation. The OB-8 did use Oberheim's very own digital buss system making the OB-8 the center-piece of your OB-studio, allowing it to connect to the DSX polyphonic sequencer, DMX drum machine and other OB-synths. In a time before MIDI, this type of instrument connectivity was truly awesome!

The OB-8 is totally programmable and loaded with powerful analog sounds and style. Dedicated knobs, sliders and a traditional layout make programming a snap and very hands-on. Each individual voice can be de-tuned for a very thick (or weird) sound. Syncable VCOs and a nice 8-note arpeggiator are also on-board on this cool analog synth. It has the OB-Xa's switchable 2 or 4-pole VCF filter with ADSR. Tons of LFO modulation controls and effects are possible. The OB-8 also introduced a second layer of programming functions - hit the "Page 2" button and all front panel controls were assigned to an entire second set of parameters! The earliest models did not label these hidden "Page 2" functions on the front panel, but that was rectified on later models.

Up to 120 patches of memory storage were also available to keep your amazing sounds around. And 24 additional patches are available for doubled/layer presets. A full 61-note keyboard with Oberheim's unique pitch/modulation benders only sweetens this synth's deal. It is used by Depeche Mode, Prince (the Artist), The Police, Trent Reznor (NIN), Thompson Twins, Rush, Simple Minds, Jimmy Edgar, Jimmy Jam, KLF, Van Halen, Stevie Nicks, Styx, Future Sound of London, Space, REO Speedwagon Paul McCartney, Rush, and The Time.
Digging deeper, we have an interview with the good Dr. on his use of Oberheim synths:
http://www.rosiegaines.com/
Does Prince still use a lot of old Oberheim gear?
Fink: Occasionally he'll bring in one of the old Oberheims, but very rarely. I think we only have the OB-8 left over now; the rest of the stuff has been sold off. He still uses a lot of Fairlight samples that he created. I know that for the Batman album and for Graffiti Bridge, he pretty much used a [Roland] D-50 and the old Emax 12-bit CD-ROM library for a lot of sounds.

What about on his older albums' How dig he put together those big synth textures like 1999 for instance?
Fink: He would just put three or four tracks of Oberheim sounds together and use different ' voicings to make it thick and fat. The Oberheim was the main synthesizer he used in the studio back then. He used the Yamaha CP-80 electric grand too, but for synths, the Oberheim was the main axe. In the earlier years, he always liked to have a real strong lead line tone incorporated into his songs; that was a trademark of his. If you listen to "Delirious," from 1999, there's a real high Oberheim patch with a lot of modulation in there. It's real live-ly kind of a cross between an organ and a square wave.

What about even further back, when he seemed to enjoy using that wheezier organ sound on tunes like "When U Were Mine?'
Fink: That was definitely the Farfisa new wave sound that was happening at the time. We were pretty much using Oberheim OB-Xs to do that.
Sadly the OB boards are no longer produced. But thanks to some enterprising European programmers, you can have your very own virtual Oberheim synth:
http://www.sonicprojects....ption.html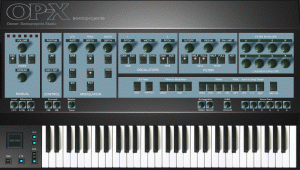 The only thing it lacks is a virtual Dr. Fink to go along with it.
So where else have you heard the Oberheim? Many, many places! Eddie Van Halen was a big fan. The OB is the "Jump" synth sound!
Vince Clarke of
Erasure
, Rick Davies & Roger Hodgson of
Supertramp
, Geddy Lee of
Rush
, Alan Wilder of
Depeche Mode
, Billy Currie of
Ultravox
were all big OB users. And, of course ladies and gentlemen, we can't forget it was the synth sound of
The Time
. And Jimmy Jam liked it so much during his time with The Time (a-hem) that he used it on his productions all throughout the 80s!
Yes, yes... this is a nerdy topic, but, my fellow Orgers, sometimes it can't ALL be about pondering if Prince sleeps in the nude... sometimes we's just gots to get our knowledge on.
[Edited 4/30/10 20:01pm]
It's almost like there is an "event horizon" for stupidity - once you fall below that line, you're too stupid to know you're stupid.