raveun2thejoyfantastic said:
Born: Prince Rogers Nelson
Jun.7,1958 at 6:17 PM EST
Minneapolis, Minnesota, USA
93W16 44N59
Sun in Gemini 16°41'
Moon in Pisces 1°59'
Mercury in Gemini 4°06'
Venus Taurus 7°50'
Mars in Aries 0°30'
Jupiter in Libra 21°56'R
Saturn in Sagittarius 22°52'R
Uranus in Leo 8°46'
Neptune in Scorpio 2°20'R
Pluto in Leo 29°58'
Eris in Aries 9°44'
Ascendant in Scorpio 16°42'
MidHeaven in Leo 29°43'
raunchy singer/performer
best known for songs like
Controversy(1981) and
Purple Rain(1984)
Ascendant in Scorpio gives Prince his dark sultry look sexual presence. Midheaven in Leo with Pluto there gives him an intense and exclusive stage presence. Moon in Pisces is noted for its musical and artistic ability. Sun in Gemini loves variety, intellectual stimulation, and communication in general. Mercury also in Gemini makes Prince very clever, versatile, and prolific. Venus in Taurus is a solid placement endowing both practical and artistic ability, a keen sense of values, phenomenal endurance and fixity, a strong need for tactile sensation. Mars is also strong in Aries, its home sign, endowing unlimited energy, confidence, and drive. Jupiter in Libra likes people and partnerships and also has musical and artistic ability. Saturn in Sagittarius must deal with ethical or moral issues of a traditional nature. Uranus in Leo seeks freedom of creativity and expression and can come up with some totally new art mediums. Neptune in Scorpio likes to fantasize about sex, and is drawn to dark and occult subjects and activities. Pluto in Leo seeks intense creative expression whether through love or career.
Cool, Here's one I have. I think it's same but maybe a bit more. I think it's interesting. The planets and sun moon etc. have to have an effect on people in some way(s)
(no moon emoticon?)
PRINCE ROGERS NELSON (Male)
born on 7 June 1958 local time 6:17 pm
in Minneapolis, MN (US) U.T. 23:17
93w16, 44n59 sid. time 10:07:18
Planetary positionsplanet sign degree motion
Sun Gemini 16°40'38 in house 8 direct
Moon Pisces 1°59'11 in house 4 direct
Mercury Gemini 4°05'34 in house 7 direct
Venus Taurus 7°49'59 in house 6 direct
Mars Aries 0°30'17 end of house 4 direct
Jupiter Libra 21°56'29 in house 11 retrograde
Saturn Sagittarius 22°51'44 in house 2 retrograde
Uranus Leo 8°45'39 in house 9 direct
Neptune Scorpio 2°20'26 in house 12 retrograde
Pluto Leo 29°57'42 in house 10 direct
True Node Scorpio 0°11'09 in house 12 retrograde
(Planets at the end of a house are interpreted in the next house.)
House positions (Placidus)Ascendant Scorpio 16°41'50
2nd House Sagittarius 16°28'12
3rd House Capricorn 22°16'15
Imum Coeli Aquarius 29°43'24
5th House Aries 1°44'19
6th House Aries 26°46'03
Descendant Taurus 16°41'50
8th House Gemini 16°28'12
9th House Cancer 22°16'15
Medium Coeli Leo 29°43'24
11th House Libra 1°44'19
12th House Libra 26°46'03
Major aspectsSun Trine Jupiter 5°16
Sun Opposition Saturn 6°11
Sun Sextile Uranus 7°55
Sun Quincunx Ascendant 0°01
Moon Square Mercury 2°06
Moon Sextile Venus 5°51
Moon Trine Neptune 0°21
Moon Opposition Pluto 2°01
Mercury Sextile Mars 3°35
Mercury Sextile Uranus 4°40
Mercury Quincunx Neptune 1°45
Mercury Square Pluto 4°08
Venus Square Uranus 0°56
Venus Opposition Neptune 5°30
Mars Quincunx Neptune 1°50
Mars Quincunx Pluto 0°33
Jupiter Sextile Saturn 0°55
Neptune Sextile Pluto 2°23
(Numbers indicate orb (deviation from the exact aspect angle).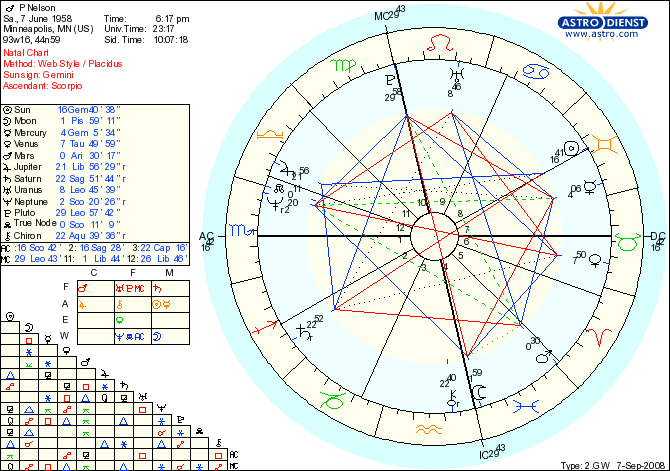 Sun in Gemini, Moon in Pisces
You were born with the Sun in Gemini and the Moon in Pisces. You seem to possess some excellent qualities. In one respect you are extremely intellectual and subtle. Your inner nature is one of reason. You are intelligent, astute, flexible, and versatile.
The Moon in Pisces definitely affects your personality or role in society, in which others see you in a different manner. You seem to be quiet and easy going, but somewhat restless. You are one of those persons who seeks variety, and you change your mind very easily. You will be criticized because you appear irresolute and sometimes cannot be relied upon. This comes about because you are rather easily discouraged. Your personality shows an inclination toward reading and all sorts of imaginative pursuits.
Your problem is, first of all, that you lack ability to make quick decisions. You are also very influenced by others. On many occasions you will feel a sense of despair, which will drain you of all the energy required to continue your projects. You should fight against these negative states of mind as much as possible.
Your feelings are not in accordance with your actions. Internally, you have the ability to solve day-to-day problems, but externally, you are too emotional. You should try to harmonize these two traits.
Ascendant in Scorpio, Mars in the Fifth House
At the time of your birth the zodiacal sign of Scorpio was ascending in the horizon. Its ruler Mars is located in the fifth house.
Your life will be marked by your shrewd, secretive, obstinate, clever, and reserved disposition. You remain an enigma: with these traits, your life events could be either very tragic or very fortunate. To which category of Scorpio do you belong? There are two types, the extremely emotional, attracted by those pathological aspects of biological relationship, or the highly mystical, concerned with spirituality.
You are a person of extremes, very sensitive and desirous of attachment. There is some attraction to the occult or to psychic phenomena. You are active in the sense that there is a psychological struggle going on inside you between the positive and negative poles-those of affirming and satisfying or rejecting and repressing. You are very intense in your feelings and remain passionately attached to the person you love. Similarly, when you dislike someone you are very fixed in that feeling. However, there is room for optimism in that: whatever type of Scorpio you may happen to be, there exists a desire deep in your inner self for psychic regeneration.
At some point in your life, after the occurrence of a major dramatic event that will affect you deeply, the goal and entire expression of your ego may alter entirely. The intensity and profundity of your passion, however, will always be constant. You have a tendency to go into the shadows and secretly plan the course of action you will take, reluctant to let others know the exact nature of your mood or feelings. In your sexual affairs you are full of passion and strong attachment.
Exert more control over your passions; don't be so resentful of others. Use your strong will and character for favorable and beneficial things.
You have a strong inclination to be involved in medicine, perhaps even surgery. You are attracted by research and investigation in general.
At first glance we can tell you that your life is going to be geared in essence to, firstly, participating in speculative affairs, and secondly, to leading an intense and varied love life.
You are going to be attracted to potential lovers with too much force and enthusiasm and your over-ardent nature may lead you into unfortunate situations. You should be most successful in love affairs but at the same time, you may suffer many disappointments and frustrations. You are assertive in love; you are closely possessive, and can become angry if your attentions are not gratified within a reasonable length of time.
Note: Mars is technically near the end of house 4 and is therefore interpreted in house 5.
Saturn in the Second House
Saturn is found in the second house at the time of your birth. This is not a very favorable astrological circumstance for the general course of financial matters in your life.
It might be difficult to maintain a relatively fair position because of financial losses. You might also take financial matters too serious, and burden yourself with worries about them.
Your arduous and dedicated work might produce little for you financially, but it does help to strengthen your self-worth and your appreciation of other values. Therefore, do not be discouraged. Saturn often grants a fairly normal financial status at an older age if one exerts oneself in this direction.
If you make an effort to acquire greater enthusiasm in business, coupled with more liberality, life will change by the same degree.
Moon in the Fourth House
The Moon was found in the fourth house at the time of your birth. Moon here will definitely influence events concerning your mother, places of residence and family matters.
Both your childhood and even your older age will be characterized by a love of romance, various journeys, and interesting adventures.
The liability of this astrological combination is that it gives you an uncertain position in life and a perpetual striving for material security that seems to be hard to come by. This may be relieved temporarily by your receiving a small inheritance and will be almost overcome by the final years of your life by excellent family care and assistance.
Venus in the Sixth House
Venus was found in your sixth house at the time of your birth. You can regard yourself as a lucky individual. Your health throughout life has been either very good or you have had the capability of quickly recovering from illness.
In dealing with others within your work environment, you may also obtain an increase in income. Your attitude to work is that it is a pleasurable thing to do. You are not a hard working individual; on the contrary, there is something of laziness in you. Destiny may put you into positions where you will work under the direction of extremely kind and attractive superiors. A love relationship could start due to this interaction.
Sun in the Eighth House
The Sun was found in your eighth house at the time of birth. This inclines your individuality to be oriented, in one way or another, to the deeper sides of life. Your sexual feelings are long-lasting, intense, and vital. Your inner self seems attracted to unusual matters related to the termination of life-death and its mysteries.
Traditional astrology indicates that near your middle age a crisis will rear its head in your life. If this period is successfully spanned you can expect a prolonged life with a gradual heightening vitality.
Financially, there are definite chances for money inherited from either your partner or from another relative.
Astrological Data For Prince Rogers Nelson
[Edited 9/7/08 14:14pm]