The first video for their ¿Con Quién Se Queda El Perro? album, has garnered over 50 million views on Youtube. Their current single La De La Mala Suerte is the No. 1 song in Mexico, which is no surprise, but it is also in the Top 10 in U.S. Just who is this mystery group? Jesse & Joy. And although they may be a household name in the Latin music, millions of Americans have never heard of them. I asked the brother-sister duo about this and what it's like to go from a world of being mobbed at grocery stores in Latin America to slipping into total anonymity when they're in the U.S., their plans are to change all that and so much more.
What does it feel like to be such a huge star in Latin America and yet many Americans haven't heard of you yet.
Jesse: It's funny in a way, you know, because even though we sing in Spanish our mom is from the States, right? So, we grew up listening to like Johnny Cash, Carole King, and Neil Young. Our next step is to do an album in English so Americans can know who Jesse and Joy are. Right now we're like 100% focused on Who Gets to Keep the Dog? That's the name of the album in Spanish. We're just starting the tour right now in Mexico, we're starting the promotional tour in Central and South America, the U.S., and then also we're going to go to Spain.
For those who don't know about your rise to success, tell us about it.
Joy: It's been almost 7 years of career here in Latin America, which is probably easy to say but it's been a lot of work and it's finally paying off around the world. It's been an amazing ride so far. We started writing when I was 15 and my brother was 18, and after that we realized we really liked it a lot. When I was 18, and he was 21, we signed with a record label. We weren't actually looking for it. It kind of fell into our laps, and we took it as a sign from the universe or destiny.
In Latin America you can't even go to a grocery store without being mobbed. What is that like?
Jesse: We're the same brother and sister that we used to be. We just get mobbed sometimes at the grocery and stuff like that, but we try and focus on the music and try to do better every time. It's funny, we keep enjoying what we do even a bit more than we did at the beginning of our career. We feel grateful for the things that happen around the music we do. We just keep on rocking, keep on having fun on stage and playing. The only thing we want to do at the end of the day is pick up our guitar and do what we love to do.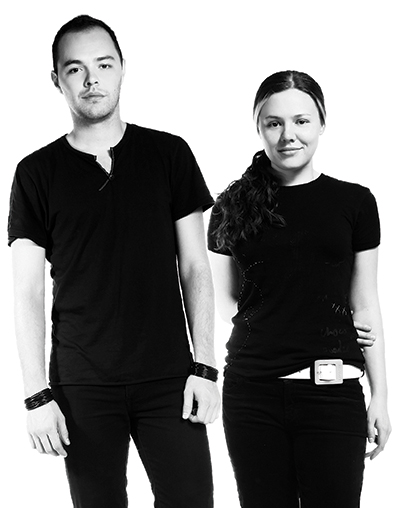 Who would you love to work with musically on a song that you haven't already?
Joy: If it's a wish list, trust me, would be really long. Probably, James Taylor and Carole King. We grew up listening to them because of our mom. We had very different cultures growing up, and my mom would put those on along with The Carpenters, Johnny Cash and with my dad we would listen to a whole different type of music. As far as contemporary, I love Coldplay and Sarah McLachlan.
Let's talk a little bit about your new song, Corre, which is beautiful and I love the video but why does he have to die in the end? Why?
Jesse: That's the same question that the director asked us when we told him the plot of the video because the whole story, we came up with it, and he's like, "There's something that I don't understand, why the guy dies at the end?" And we're like, "We just want to give this twist to the story," and sometimes life is just like that. You know, it's just the rawness of life. I think that has to do also with the relevance of the views of the video not the fact that he dies, but the fact that it's so possible.
How does a song begin with the two of you? I mean, do you come up with the lyrics first or the music first, or how does that happen?
Jesse: We have this system in all our chaos. I do the music concept and between the both of us, I show Joy the music and then we let that put us in a mood. Either that or we have an idea of a theme in particular or we've just had this experience that we want to talk about and we do the lyrics between the both of us.
There are a lot of artists who will be reading this interview and they really want to be where you are but they're struggling right now. Maybe a lot is going on in their personal life, or maybe they're struggling just to decide between Ramen noodles and a bus ticket and they really want to make it. So, what are your words of advice and wisdom and encouragement for those people?
Joy: I think it's very important to never lose sight of what you want and to truly believe in yourself, you know? Because if you believe in yourself and you do things from the bottom of your heart at the end of the day, that's something that we've been doing. It's not that it's my way or the highway, but if you truly believe in something and you really put your heart into it and things will work out.
Full English CD is in the works.
The brother-sister pair pursues a Grammy for '¿Con Quién Se Queda El Perro?' – just one more example of their daily connectivity.
February 09, 2013
|
By Reed Johnson, Los Angeles Times
Jesse and Joy Huerta, who record as Jesse y Joy, are nominated in the Latin… (Jay L. Clendenin, Los Angeles…)
She's a little bit country. He's a little bit rock 'n' roll.
It figures, doesn't it? But musical siblings Jesse and Joy Huerta, who'll be chasing a Grammy Award on Sunday in the Latin pop album category, differ from Donny and Marie Osmond in more ways than one.

For starters, there's the dual-language thing. Born and raised in Mexico City, Jesse, 28, and Joy, 26, grew up switching back and forth between their Wisconsin mama's native idiom and their Mexican papa's mother tongue.
At home, their mom, an English teacher, insisted, "I don't want any Spanglish. Speak either English or Spanish." Jesse y Joy (to use their proper showbiz name) now swing between the two cultures as naturally as migratory birds cruising the North American flyway.
Then there's the point that the "country" music Joy grew up learning to love was as likely to be Pedro Infante as Johnny Cash. Her parents dug it too.
"They would sing in the house, just for fun," Joy said over breakfast with Jesse earlier this week at a West Hollywood hotel. The duo had flown in from Mexico City, where they both live. "My mom would harmonize for my dad and vice-versa. Pretty corny. We were like, 'Oh, God, stop, please!'"
Their mother's vinyl collection also exposed the kids to Aretha Franklin, James Taylor and Carole King, infusing their consciousness with the ultra-mellow, keyboard-centric, singer-songwriter sensibility that's become their hallmark.

It's no coincidence that their third album, "¿Con Quién Se Queda El Perro?" (Who Gets the Dog?), which won last year's Latin Grammy Award for contemporary pop vocal album and is in the running on Sunday, concludes with an English-language, note-faithful cover of John Lennon's "Imagine." Their rootsy, soft-rock sincerity evokes '80s country-pop, and Joy's dulcet-but-earthy voice has been compared to those of Norah Jones, Alanis Morissette and, almost inevitably, Kelly Clarkson.
In other ways, though, the Huertas, who also won last year's Latin Grammy awards for song and record of the year for "¡Corre!" (Run!), bear a resemblance to other famous musical blood-brother-and-sister acts.
They've been close since childhood — "best friends almost," as Joy puts it.
They received a good Christian raising at the family's Mexico City evangelical church, where they had permission to play the instruments when services weren't being held.
"Before we got to the point that we could play with real instruments we used to play with tennis rackets and hang them with belts, as if it was a guitar, or buckets, and just play back to Creedence [Clearwater Revival]," Jesse said, with a laugh.
They are impossibly wholesome and ridiculously nice — footnote: their dad teaches theology — attributes that don't always go in tandem with pop stardom.

And they are preternaturally in sync with each other's thoughts, often completing each other's sentences and sometimes showing up at an interview or recording session inadvertently wearing look-alike blue-and-white-striped shirts, jeans and shoes. Although Jesse is married with two young daughters and Joy is single, they still see each other nearly every day.
"Sometimes I'm with his friends and he's with my friends and they just say, 'Man, you just made a comment your sister made two days ago,'" Joy concurred. "So it's kind of weird. But this same complicity exists whenever we're playing. It's just a matter of a look and we know, 'You know what, don't go to the full chorus, let's cut it in half and just go to the end.'"
The sibling synchronicity began paying off with the release of their 2006 debut album, "Esta Es Mi Vida" (This Is My Life), which reached the top 20 on Mexico's album charts and yielded a hit single, "Espacio Sideral" (Outer Space).
Their second studio album, "Electricidad" (2009), somewhat less earnest and more polished and experimental than its predecessor, sold well in the United States and Latin America. But the Huertas felt they'd strayed a bit and resolved with their third album to get back to their essence.
So they went to work with London-based producer Martin Terefe, whose client list includes Cat Stevens and Mary J. Blige. With Jesse once again writing the music and both siblings contributing lyrics, the Huertas wanted the new record to capture the analog-era warmth and intimacy of a live performance.
"For us, and the type of music that we're making right now, we just wanted you to feel that you press 'play' and then go watch us live and get that same sensation as being there in the room with us," Joy said.