Ida Nielsen: "Prince always pushed us to be better - now I want to make sure I'm the best musician I can be"
By Mike Brooks, Joel McIver (Bass Player) 08 July 2020
Ida Nielsen talks cheap gear, the Purple One, and explains why her phenomenal new album, 02022020, is slap-free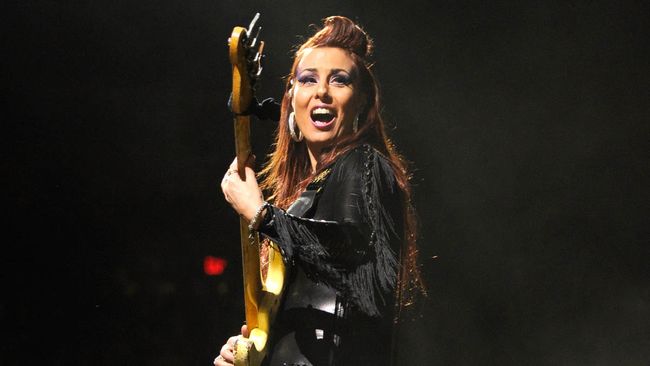 https://www.guitarworld.com/features/ida-nielsen-prince-always-pushed-us-to-be-better-now-i-want-to-make-sure-im-the-best-musician-i-can-be?fbclid=IwAR2IgAo5yTvjujf4iONMgPYovgpebwWWQD7TS10R1VyKeaeTfub1MiFS0Pw
Danish bass icon Ida Nielsen is back in 2020 with new album 02022020, which sees the Prince bass player take on a new songwriting direction.
We quizzed Nielsen on the cheap gear she used to record the new album, why she steered away from slap, and just what it was like to take on one of the world's most demanding gigs...
Tell us about the new album, 02022020.
"It's not a typical bass album, but there's still a lot of bass on it. I compose different kinds of music all the time. I'm touring with my funk band right now, and that stuff is what people have come to expect.
"Funk is my thing, and I love it, but as we toured, some of my older stuff took different turns and I wanted to record reinvented versions of some of those tracks. I wanted to release something for February 2, 2020, because I thought it was such a cool date, but it was also because my next funk album was not gonna be ready.
"I wanted to do something completely different. There's no slapping on the album, which is funny, because people are always asking me why I slap so much, haha!"
How did you record the bass this time?
"Straight into the computer, along with all the other instruments except the drums, which we did in the studio. People are gonna be angry with me when they hear which interface I used for the bass, because I used the cheapest one you can get!
"I bought it back when I was with Prince, because we were traveling so much. I'm not big into tech, I just want it to work. I recorded the vocals with a USB microphone. It's a great time for affordable gear right now."
Did you use your signature Sandberg for this album?
"Yes, because it's totally versatile. It will do everything I want it to do. It fits me really well. You've had it a few years now. How have you refined it to suit you? Being a signature model, I didn't want it to be the same as something that was already available.
People are gonna be angry with me when they hear which interface I used for the bass, because I used the cheapest one you can get!
"So I went to the workshop and tried out this bass with a hole in it, so I could try different pickup options, move them around and try different types. I think I found some pickups that sound just how I like them to, and we found the right position as well.
"That was super-fun, as you could move one pickup and make the other sound really good but then adding the other would make it sound not so good—so you have to find the right combination.
"The electronics are standard Sandberg, but I feel that bass has such a variety of possibilities and I like all of that variety. I like the honkiness of the bridge pickup and the old-school sound from the neck pickup."
How did the association with Sandberg come about?
"That goes way back to the Frankfurt Musikmesse in 2009. I was doing some stuff with TC Electronic at that show, and one of my friends from TC introduced me to Holger. I tried a bass on their stand and it was like, 'Wow, what is going on here - I need this bass!'
I think the fact Prince gave 100 percent onstage night after night has had a huge impact on me. His presence added something special
"Before that, I had a Lakland and a Fender, but the way this one sounded, I just thought 'This is it!' Holger Sandberg gifted that bass to me - and this was before I was playing with Prince, which is why I'm very happy to work with Holger.
"Obviously once I started playing with Prince, everyone took an interest in the instruments I was playing - but the fact that I wasn't really known before that shows Holger had faith in me."
.
read the rest at the link