Prince, his guitar, and a new band, 3rd Eye Girl, hit the Roseland Theater
http://www.oregonlive.com...eland.html
Ida Nielsen got the call in 2010 while she was playing a festival in Europe. It came from Prince's manager. Prince had seen some online videos of Nielsen playing bass and he wanted her to come to Minnesota and jam.
Drummer Hannah Ford got an email last year. Same deal. Ford remembers the message saying, "We've come across your videos and we would like to know if you would audition for our new project." At first, she knew only that it was a major artist. Only later was Prince's name used, at which point Ford says she ran around her church like she'd lost her mind.
Not long after, Ford says, Prince asked her and her husband to be on the lookout for a female guitar player, so they hit the Web and found Donna Grantis.
That's how 3rd Eye Girl, the band Prince will bring with him Sunday for two sold-out Roseland Theater shows, came to be, and their story is illustrative of Prince at 54.
He's been around long enough (his debut came out in 1978), and chased so many muses, that while no one likes everything he's done, everyone likes something he's done. And if you don't, well, you don't like fun things? Why don't you like fun things?
Over the decades he's been sex in high heels -- and religiously restrained. He's played all his hits -- and none of his hits -- changed his name to a symbol, avoided the spotlight, and hosted the best halftime the Super Bowl, one of the biggest events in the world, will ever witness.
Prince -- who just three years ago released a record ("20Ten") via print newspaper in London and told that newspaper, the Mirror, that the Internet is dead. That same Prince is one of the few people in the world who can make that same perpetually cranky Internet behave on his terms.
Earlier this month, his people filed a copyright complaint and had a number of six-second videos removed from Twitter's new Vine app. His people keep a close enough watch on YouTube that the first page of a search for "Prince" returns three hits for the '90s sitcom "The Fresh Prince of Bel-Air." Three results are Prince doing Prince songs. The top search result is Prince on "The View."
Online isn't necessarily his favorite thing. But he's Prince, so of course he'd recruit online, and when it came time to start rolling out new music, he rolled out from a mysterious-at-the-time character on YouTube, Twitter and Facebook called 3rd Eye Girl.
Blessed is this rock star, for he remains devilishly entertaining.
Consider the rest of the quartet that broke out to massive stardom in the 1980s. Michael Jackson went tragically off the rails. Madonna ran out of re-inventions and was last seen (last week) exchanging words in the press with the president of Malawi. Bruce Springsteen doubled down on the all-American iconography of "Born In the U.S.A."
Prince just plays music. Lots of music. All-the-time music. Funk. Blues. Soul. Rock. Jazz. Hip-hop. Whatever and whenever and often into the earliest morning hours.
In separate interviews last week, the members of 3rd Eye Girl described the last three months as something like a rock fantasy camp, 12 hours a day of jamming, rehearsing, recording and preparing for this tour, which will feature early and late shows each night.
They sounded excited to be playing music with Prince.
"As a guitar player, to hear him rock and do his thing," Grantis says. "I feel like I've got front row seats every day to hear some of the greatest playing of all time."
Guitar?
"He's definitely going to be playing the guitar," Nielsen says.
"A ton of guitar," Grantis says.
Guitar!
It's another paradox of Prince that he can be one of the world's all-time-great guitarists, and sometimes barely touch the guitar. Prince playing guitar is exciting and possibly worth the high price of admission by itself (Roseland tickets started at $175).
Backing up the band's words is the material that's been teased for this tour and (presumably) Prince's next album, (presumably) titled "Plectrum Electrum."
"Screwdriver" is a slinky rocker. They released rehearsal audio of a slow-charging, guitar-stomping version of his hit "Let's Go Crazy."
There's hollering, and laughter and a whole lot of sound. Grantis says she's bringing 20 effects pedals and eight amps on tour.
"It's going to be pleasant," Ford says, laughing. "I guess pleasantly loud, and feedback-y and crazy. It'll be a pleasant show."
So pleasant, she suggests leaving your phone in your car. You won't need it. The video you're taking won't stay online long anyway.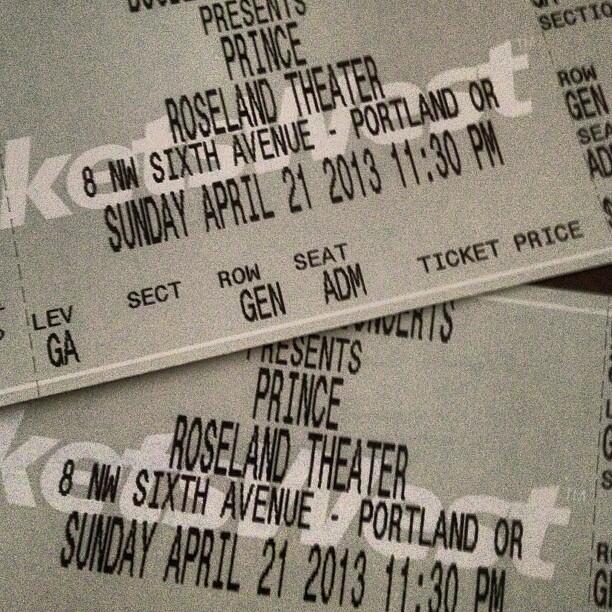 [Edited 4/21/13 10:20am]