IanRG said:

(1) No, I can do something - I can point that your sources are seriously flawed as they are only ever picked for where they agree with your political opinion. Your newspaper article is full of errors, yet you introduced this error filled mess by saying "Actually its Green Policy that causes the deaths" without knowing the facts on the mere assumption that the content was correct. I did not both pointing several other less important errors, such as Australia has no provinces - Australia is a Federation of States.
It's an article in a Dutch newspaper which I shoved through Google Translate.

Regardless of what errors you point out, what is undisputable is the interview with Underwood and the remarks he makes.
.

(2) Correct. Authorities that deny climate change are negligent. Authorities that are not climate change deniers yet still lack the political will to act accordingly are negligent. Inaction on climate change is, as you say, pure negligence. It is now costing lives - human, stock and native wildlfe. And this is only the beginning.
The climate change statement is bollocks. (see below) One hot summer isn't an indicator of climate change. And when I look at this chart, I see no reason to draw the climate change card: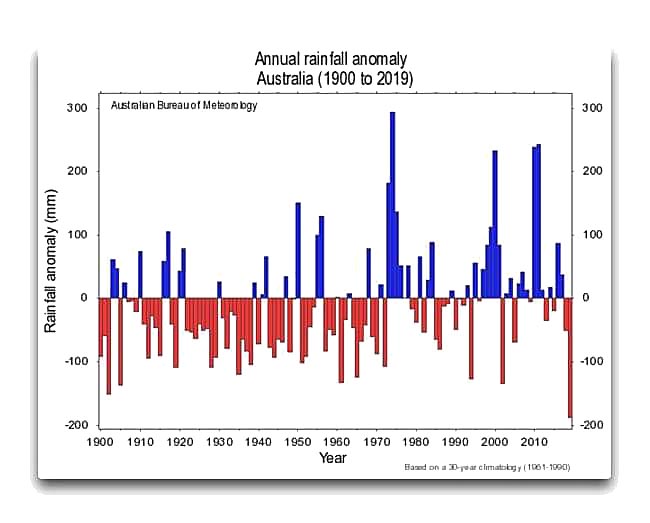 And of course I'm aware that Austrailia is big and that there are regional differences.
But as you can see abouve, Austrailia has seen dryer times then what we witness currently.
.

nowdays as the climate changes, the outcomes are increasing matching the worst case scenario predicted outcomes. These models factor in increasing temperatures, reduced air and soil moisture, wind strength and changes, the ability of fires of these sizes to create their own weather patterns, the explosive nature of the eucalyptus oils, ember attacks of increasing range that exceed traditional fire breaks, dry lightning storms preceeding southerly changes that bring little or no rain, terrain and not just unburnt off fuel stocks on the ground in the bush.
Wednesday 19 June, 2019, Sydney Environment Institute (SEI), University of Sydney.
At 1:11:20
Professor Andy Pitman: (Audio recording, skip to 1:11:20)


"…this may not be what you expect to hear. but as far as the climate scientists know there is no link between climate change and drought.
That may not be what you read in the newspapers and sometimes hear commented, but there is no reason a priori why climate change should made the landscape more arid.
If you look at the Bureau of Meteorology data over the whole of the last one hundred years there's no trend in data. There is no drying trend. There's been a trend in the last twenty years, but there's been no trend in the last hundred years, and that's an expression on how variable Australian rainfall climate is.
There are in some regions but not in other regions.
So the fundamental problem we have is that we don't understand what causes droughts.
Much more interesting, We don't know what stops a drought. We know it's rain, but we don't know what lines up to create drought breaking rains."


Oh and:
Andy is a climate modeler with a major focus on terrestrial processes in global and regional climate models. He has explored the global and regional impacts of land cover change and currently co-leads the Land use change: identification of robust impacts project. He has interests in climate extremes and how these are likely to change in the future. His leadership and research experience is extensive nationally and internationally. Between 2004 and 2010 he convened the ARC Research Network for Earth System. Since 2011 he has been the Director of the ARC Centre of Excellence for Climate System Science. This national centre involves five Universities, major Australian research agencies and many international groups. Andy is a member of the Academy of Science's National Committee for Earth System Science and the NSW Minister for the Environment's Science Advisory Committee. He is closely affiliated with the World Climate Research Program (WCRP). He was chair of the WCRP's Land Committee for the Global Land Atmosphere System Study from 2006 to 2008, and is now on its Science Steering Committee.
The man of science has learned to believe in justification, not by faith, but by verification - Thomas Henry Huxley