Pioneers in presidential race - First black presidential nominee in 1880; U.S. has seen 13 total
Tuesday, Feb 12, 2008 - 12:01 AM
Black History Profiles
Richmond Times-Dispatch explores key figures in Virginia's history
By BONNIE V. WINSTON
SPECIAL CORRESPONDENT
As U.S. Sen. Barack Obama heads toward history as the man who could become the nation's first African-American president, he stands, as the adage goes, on the shoulders of others.
Indeed, the 46-year-old Democrat from Illinois with a law degree from Harvard University who is electrifying voters in party primaries and caucuses across the country, is at least the 13th African-American to run for president of the United States.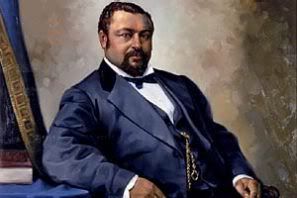 Have you heard of Blanche Kelso Bruce, the U.S. senator from Mississippi who was nominated for president from the floor of the Republican national convention in 1880, or George Edwin Taylor, a Wisconsin newspaperman and labor champion who ran for president in 1904 on the National Liberty Party?
The names of these pioneers are lost to popular memory, their historic nominations noted mostly in archives. But their quests for the presidency, coming in the post-Emancipation era, were rooted in the same belief in democracy and hope for the future as Obama's current run.
Bruce, who was born a slave in Virginia in 1841, was the second African-American in the U.S. Senate, pushing civil rights for blacks, Native Americans, Chinese immigrants and former Confederates.
The Almanac of Women and Minorities in American Politics and other sources place him as first among African-American candidates, with a nomination at the Republican convention in 1880 in Chicago.
But other sources say he was nominated for vice president in 1880 and again in 1888.
(The first African-American nominated for vice president was Frederick Douglass. That was in 1872 on the ticket of the Equal Rights Party, with suffragist Victoria Claflin Woodhull running as president.)
Bruce
made history in other ways as well. U.S. Senate historical minutes note that on Feb. 14, 1879, he was the first African-American to preside over the Senate.
He later became the first African-American to have his name on U.S. currency when he was appointed registrar of the treasury by President James Garfield in 1881.
Just two decades later in 1904, a national African-American political party, the National Liberty Party, ran Taylor as its presidential candidate.
An Arkansas native who was the editor and owner of the Labor Advocate newspaper in La Crosse, Wis., Taylor ran on a platform of "true liberty" for all people, as outlined in the Constitution, that included universal suffrage, equal protection through anti-lynching laws, pensions for ex-slaves and political representation for citizens of the District of Columbia.
More than 60 years passed before another African-American was nominated for president. In 1968, the Rev. Channing E. Phillips of Washington, a pastor, community activist and civil rights leader, became the next nominee.
The pastor of Lincoln Congregational Temple United Church of Christ led the D.C. delegation to the Democratic National Convention in Chicago. The delegation had been pledged to Sen. Robert F. Kennedy, but after the senator's assassination, it nominated Phillips as a favorite son. He received 67½ votes. Phillips was a graduate of Virginia Union University and was briefly on the staff there in 1974.
His nomination at the tumultuous convention ushered in the modern era of American politics and African-American presidential nominees who are more widely remembered.
In 1972, Congresswoman Shirley B. Chisholm of New York became the first African-American woman nominated for president. She was a contender for the Democratic Party's nod, with her name appearing on primary ballots in 12 states. At the party's national convention in Miami, she received 152 votes.
In 1984, the Rev. Jesse Jackson of Chicago made his first bid for the Democratic nomination for president, with his keynote speech at the national convention in San Francisco stirring a "rainbow" of people disaffected by the policies of Republican President Ronald Reagan.
The Rainbow Coalition solidified into a political organization Jackson used in 1988 to make a more formidable run for the Democratic nomination. He won 11 Democratic Party primaries and caucuses, including Virginia's, which was held on the nation's first Super Tuesday, garnering 7 million votes in the process.
At the party's 1988 national convention in Atlanta, Jackson won 1,218½ votes the second highest behind party nominee Massachusetts Gov. Michael S. Dukakis.
Also running for president in 1988 was Lenora B. Fulani of New York, a psychologist and social activist, who held top slot on the New Alliance Party's ticket. She is the first African-American to get on the ballot for president in all 50 states. She ran again in 1992.
. . .
Closer to home, Virginia Gov. L. Douglas Wilder, who had made history nearly two years earlier as the nation's first elected African-American governor, flirted with a presidential bid. In September 1991, he announced that he was seeking the Democratic nomination for president but pulled out of the race just four months later, in January 1992, with an underfunded campaign and growing monetary woes back in the commonwealth.
Republican Alan Keyes of Maryland, a former assistant secretary of state and former U.N. ambassador, ran twice for the GOP presidential nomination: once in 1996 and again in 2000. But the staunch conservative rarely polled more than single digits in primary contests across the country.
He is an announced candidate for his party's nomination this year, but his campaign has showed little momentum.
During the crowded 2004 contest, two African-Americans were among a 10-person field seeking the Democratic presidential nomination: former U.S. Sen. Carol Moseley Braun of Illinois and the Rev. Al Sharpton of New York, a longtime political activist.
Braun, a lawyer who served as ambassador to New Zealand, made history in 1992 as the first African-American woman elected to the U.S. Senate. She joined the presidential nomination race in early 2003 but dropped out just days before the Iowa caucuses in early 2004.
Head of the National Action Network, Sharpton campaigned for about 14 months before withdrawing from the race and supporting the party's eventual nominee, U.S. Sen. John Kerry of Massachusetts. His best showing in any of the primaries was second place in the D.C. primary, where he won 20 percent of the vote.
Other African-Americans have mounted brief presidential campaigns, but none have reached serious proportions. For example, in 1968, Eldridge Cleaver, then minister of information of the Black Panther Party, and comedian-turned-civil rights activist Dick Gregory shared the presidential nominations of the Peace & Freedom Party. Cleaver was on the ballot in at least five states and got about 10,000 votes; Gregory got almost 50,000 votes in the nine states where he was on the ballot.
Well, a little tidbit of something I just read about. I thought I knew but I didnt. Found it quite interesting, and fitting for this time.