StarTribune.com
Margaret's time: Singer Cox finally puts together first solo CD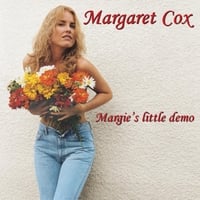 By Jon Bream, Star Tribune
April 5, 2003
Jesse Johnson dubbed her TaMara. Prince billed her as Margie Cox. Now, after more than 25 years of singing in Twin Cities bars, the singer generally known as Margaret Cox has released her first solo album, "Margie's Little Demo."
"I wanted to call it 'Demo' because it's the first time I've ever done anything that's completely mine," Cox said.
She recorded an album with Raggs circa 1980, then sang on a local "Bar Wars" compilation LP and on the final Lipps, Inc. album. In 1985, she was lead vocalist of TaMara & the Seen, produced by former Time guitarist Johnson. It yielded the hit "Everybody Dance," which went to No. 3 on Billboard's R&B chart. In the early '90s, she recorded more than 25 songs with Prince for a band to be called M.C. Flash. An album never was released, but one Margie Cox track, "Standing at the Altar," was featured on a Paisley Park compilation CD, "1-800-NEW-FUNK" in '94.
The 13 songs on "Margie's Little Demo" have been written and recorded over the past dozen years at nine different Twin Cities studios. The music is mostly full-throated funk, augmented by soulful balladry and Cox's flair for pop melodies. There are shades of Chaka Khan and Prince all over the CD, but the disc also will remind listeners of Cox's longtime group, the Legendary Combo, which plays Mondays at Bunkers in Minneapolis.
On Saturday, backed by the Combo, she will stage a CD-release party at, of course, Bunkers. The album actually came out in September (thanks to a loan from her mother, Nancy, a vocal teacher) but Cox never got around to having a CD-release gig because almost all the members of the Combo perform in other bands on weekends. (She fronts Vanguard, which plays weddings and other private functions.) Moreover, the musicians had to learn several new songs.
Cox, 40ish, made her Twin Cities nightclub debut in ninth grade, singing at Bootlegger Sam's in Dinkytown (where she lived and attended Marshall-University High School). She graduated to other bands, including Raggs, the Doug Maynard Band, the T.C. Jammers, the Peterson-Cox Band (with Patty Peterson), Rupert's Orchestra and, in 1987, Dr. Mambo's Combo (now just the Legendary Combo). She has never had a "day job."
She was "a star for a minute" with TaMara & the Seen, though she said she didn't see royalties -- just a salary and $10,000 when she signed with A&M Records. With Johnson, she cowrote a tune, "I Need You," that ended up on Paula Abdul's blockbuster album "Forever Your Girl," but Cox said she never got a penny from it. Starting in 1990, she worked with Prince for a couple of years but remained under contract until '96 -- and didn't see much in the way of royalties.
When it came to business, she said she naive; her lawyer was also Johnson's lawyer. "I didn't know about conflict of interest then," said Cox, who now handles the Combo's payouts and tax statements.
As for her Prince experience, she said, "it's a sob story again, but at the same time I feel strong. It didn't get me down; it didn't make me quit."
On the liner notes to "Margie's Little Demo," she says "Thanks but no thanks to Jesse and Prince." The CD's graphic designer encouraged her to keep that left-handed compliment.
"I regret it," she says of the shot at her two former bosses. She said when she presses the next batch of CDs, she'll remove that comment from the liner notes.
Cox, who plays keyboards in the studio but not onstage, already has a bunch of songs for a second CD. But to the chagrin of Michael Bland, her frequent studio collaborator and the Combo's drummer, none of them is dark or depressing.
"I'm too happy right now," she said late Monday night after the Combo's gig. "I just bought my first house and put out my first CD. Man, I'm in heaven."