IanRG said:

midnightmover said:

Trafficking is one thing. Slave auctions held in broad daylight are something else. That was not happening in Gadaffi's time. I don't think it's possible to seperate this new development from the general breakdown that has followed since Gadaffi was removed. In 2010 Libya had the highest rating on the UN's Development Index in the whole of the African continent. That measures healthcare, social security, life expectancy and other things. They were doing well in those terms. Now Libya is a hell-hole. We did that. Even Obama said that Libya was his "biggest mistake". I've yet to hear an apology from Hillary Clinton or David Cameron.

.

So - We must never help anyone overthrow a dictator because it then be our fault that the slave trade they actively practiced under that dictator will become more open in the period of instability afterwards?

.

Obama said intervening in Libya was the right thing to do but failing to prepare for the aftermath of Gaddafi being oustered was his biggest mistake. He did not say Libya was his biggest mistake, that is your spin. What he meant was the USA, UK and France should have intervened more afterwards and not been distracted as he accused UK and France of being (and by implication himself). By "we" you assume I am from one of these places - I am not.

.

The acts of the Libyan slave traders are the acts of the Libyan slave traders as allowed by the Libyan Government - this applies whether it was the Gaddafi dictatorship choosing to do nothing to prevent it or the current goverment's lack of effectiveness meaning they can do nothing to prevent it.

[Edited 12/3/17 11:18am]
The fact that you now have slave auctions in Libya (which was not happening before) is yet another sign of how the formerly stable and prosperous Libya has collapsed into an anarcho state following the removal of Gadaffi. That is not an opinion, it's a fact.

Furthermore, it was an entirely predictable outcome. I know that because I predicted it myself at the time. Furthermore, Gadaffi was actually our friend and partner at the time (one of many dictators we have been friends with). The bombing of Libya and arming of terrorists there in 2011 was state hooliganism masquerading as humanitarianism. And the effects of that Al Qaeda support mission (which was effectively what it was) have extended way beyond Libya (even more so than with our other crazy war in Iraq).

BTW, the report you quoted made it quite clear that Gadaffi's government was making efforts to stamp out human trafficking so I don't know why you are saying that he "chose to do nothing to prevent it". It should be pointed out also that Libya was just one of about 150 countries in that report. Clearly it's a global problem, but our war of aggression there has made it worse. Slave auctions are something most of us thought had been left behind in the 19th century. But Libya is now such a lawless hellhole that it can thrive.

Black people living in Libya have particularly suffered since the fall of Gadaffi. They could always find employment there before and Gadaffi was supportive of them. Once he was removed they were among the first to be targeted by the rebels. Here's a report on that from the time.
----------------------------------------------------------------------------------------------------
'Libyans don't like people with dark skin, but some are innocent'
Any black African can expect arrest without proof he was not part of Gaddafi's forces. Patrick Cockburn reports from Tripoli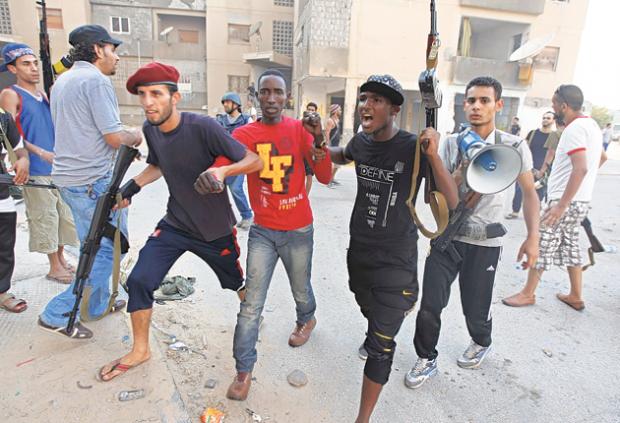 A Gaddafi loyalist is detained by rebel forces in Tripoli Reuters


Yassin Bahr, a tall thin Senegalese in torn blue jeans, volubly denies that he was ever a mercenary or fought for Muammar Gaddafi.
Speaking in quick nervous sentences, Mr Bahr tries to convince a suspicious local militia leader in charge of the police station in the Faraj district of Tripoli, that he is a building worker who has been arrested simply because of his colour. "I liked Gaddafi, but I never fought for him," Mr Bahr says, adding that he had worked in Libya for three years laying tiles.
But the Libyan rebels are hostile to black Africans in general. One of the militiamen, who have been in control of the police station since the police fled, said simply: "Libyan people don't like people with dark skins, though some of them may be innocent."
Going by Mr Bahr's experience, any black African in Libya is open to summary arrest unless he can prove that he was not a member of Colonel Gaddafi's forces.
Fathi, a building contractor who did not want to give his full name and was temporarily running the police station, wanted to know why Mr Bahr had a special residence permit that an immigrant worker would not normally obtain. "You must have been fighting for Gaddafi to have a permit like this," he said. Mr Bahr said that three years earlier he had walked through the Sahara and crossed the Libyan border illegally with other West Africans looking for work. They had been picked up by the Libyan police, but he had eventually bribed them to get a residence permit. He had been watching television with nine other African immigrants when they were arrested, though no arms were found in the house.
Racism against black Africans and Libyans with dark skin has long simmered in Libya. Before the war there were estimated to be a million illegal immigrants in the country, which has a population of six million and a workforce of 1.7 million.
In 2000 there were anti-immigrant riots in which dozens of workers from countries like Ghana, Cameroon, Niger, Chad, Nigeria and Burkina Faso were killed. The war has deepened racial hostility. The rebels claim that many of Colonel Gaddafi's soldiers were black African mercenaries. Amnesty International says these allegations are largely unproven and, from the beginning of the conflict, many of those arrested or, in some cases, executed by the rebels were undocumented labourers caught in the wrong place at the wrong time.
But there is no doubt that all black Africans are now under suspicion. The head of the militia in Faraj, a short bearded man in a brown robe named Issam, explained how well-prepared local insurgents had taken over the area on 19 August, telling Colonel Gaddafi's supporters to hand over their weapons and stay at home. There was almost no resistance from the demoralised regime and few people had been arrested. Then Issam added, as an aside, that his men had also detained "tens of Africans whom we sent off to prison". He did not explain why they had been jailed.
Black African immigrants in the past benefited from Gaddafi's aspiration to be a pan-African leader. The position of illegal immigrants was always uncertain, but they were essential to the economy. With the fall of Gaddafi, those who have not already fled face persecution or even murder. Last weekend 30 bodies of mostly black men, several of them handcuffed and others already wounded, were found after an apparent mass execution at a roundabout near Gaddafi's Bab al-Aziziya headquarters.
Issam, the temporary chief of police, insisted that Mr Bahr had not been mistreated and was being fed well. Any interview with a prisoner must come with a health warning, since he or she are unlikely to speak freely about their treatment while still under arrest. Mr Bahr confirmed that he was being well treated, but he did look very frightened.
http://www.independent.co.uk/news/world/africa/libyans-dont-like-people-with-dark-skin-but-some-are-innocent-2345859.html
"The man who never looks into a newspaper is better informed than he who reads them, inasmuch as he who knows nothing is nearer to truth than he whose mind is filled with falsehoods and errors."
- Thomas Jefferson